One year after the tsunami and earthquake that devastated the northeast coast of Japan and left thousands of people dead, Robert Michael Poole and photographer Benjamin Parks traveled to Ishinomaki, one of the worst-hit towns, to ask survivors how the recovery is progressing, about the government's response to the disaster, and how the people are coping.
Survivor: Yuichi Kowata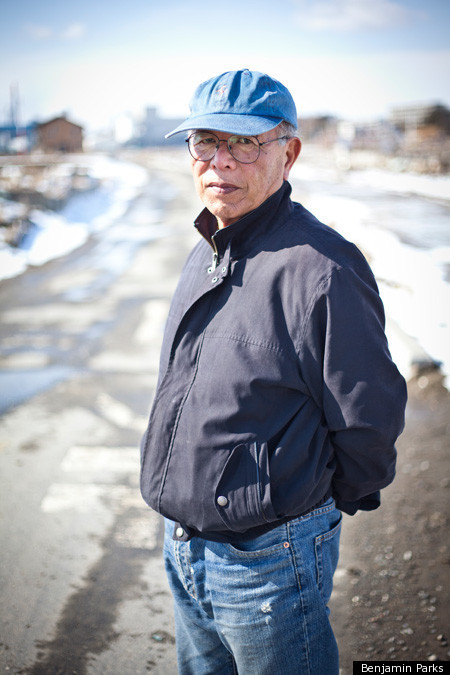 Outside the Ishinomaki train station, taxis line up for visitors and commuters as usual. Here, though, like in so many of the coastal towns that found themselves in the 2001 tsunami's path of destruction, the population is largely elderly and the drivers are often retirees. 70-year-old taxi driver Yuichi Kowata, who knew the town and its inhabitants better than most, bears the weight of the town's losses in his expression. While the camaraderie of the drivers remains strong, the sense of sadness and grief is all too apparent.
Where were you when the tsunami struck?
[Kowata] I was in the Ishinomaki area when my car started shaking [because of the earthquake]. I could hear about the tsunami from the car radio, so I went back to the station, and a policeman near the station warned me. I was headed home in my taxi when the tsunami hit. I was in the middle of the street with three customers in my car, and we climbed onto the roof together when the water started coming into the car.
It was very cold and there was snow. We waited for one hour, then a young person swam to me and gave me a rope, and one-by-one people got to safety. We stayed in the young man's home on the second floor for two nights.
On the third morning the water had receded some, and we could go home.
How did you survive?
There was no electricity or water, so for about one week my son, who lives in the city of Sendai, drove food and water to me. People from Tokyo also helped, bringing food, gas and cell-phone batteries.
How did it affect you?
The water destroyed my car, so I had to stop working for two months.

What is your hope for the future?
Maybe in two years I will have to stop, because I'm getting older -- I'm 70-years-old, and just want to be healthy.
Is the government doing enough?
In my opinion, they reacted too late.
What can we learn from this disaster?
Many people have helped -- volunteers from abroad, the Japanese military, and many others. We all have to work together.
How are the elderly coping?
Many older people are staying in temporary homes. It's very difficult, especially if you have no kids and your health isn't good, so they turn to drink. The winter nights are also tough, so they are using heaters.
About the co-author and photographer:
Robert Michael Poole is a Tokyo-based writer, editor and entrepreneur whose work has been published by Newsweek, Wall Street Journal, CNN and Associated Press. He focuses primarily on the Asian entertainment scene, as well as lifestyle, travel and international issues affecting the region.
Benjamin Parks is a Canadian photographer based in Tokyo. He specializes in editorial and corporate portraits as well as product photography and videography. Some of his clients include Eurobiz, Metropolis, In Style, Columbia Law School and Bluetooth Signature magazines as well as Ferrari, DHL and United Colors of Benetton.
More Ishinomaki Survivors Speak:
SUBSCRIBE AND FOLLOW
Get top stories and blog posts emailed to me each day. Newsletters may offer personalized content or advertisements.
Learn more