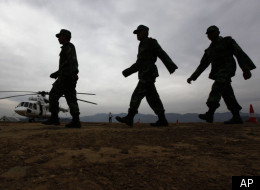 The "Kony 2012" video campaign against Joseph Kony, the leader of Uganda's Lord's Resistance Army, was met with fiery reactions across the board after it exploded across social media platforms Wednesday.
The documentary's graphic portrayal of Ugandan children as soldiers became a viral sensation, racking up more than 38 million views on YouTube.
While the film has garnered a great deal of support for the cause, some suspicious viewers are taking a critical look at Invisible Children, the organization behind the documentary. Since the release of "Kony 2012", questions have been raised about the organization's spending practices, support for military action and failure to hold Uganda's President Yoweri Museveni accountable.
But what both supporters and dissenters can unequivocally agree on is that "Kony 2012" has opened the eyes and minds of millions who would not otherwise know the extent to which Kony tortures and trains children to kill.
Since before the film came out, several human rights organizations, including UNICEF, International Rescue Committee, Child Soldiers International and SOS Children's Villages have been working to rescue and rehabilitate child soldiers in Uganda. Whatever your opinion is on the viral Kony campaign, consider learning about -- and contributing to -- the nonprofits that continue to perform lifesaving work in Uganda.
SLIDESHOW:
UNICEF partners with local Ugandan communities to provide them with the tools they need to protect, heal and empower former child soldiers. The organization works to take guns away from children and moves children away from living in barracks. When it comes to reintegrating ex-soldiers into their communities, UNICEF gives local centers shelter materials, medical services, counseling and job-training support. Get involved with UNICEF's child protection programs here.

Oxfam raises awareness of child soldiers in Uganda and lobbies for an end to war. The organization provides clean water and sanitation to soldiers living in camps and provides counseling for returning child soldiers. Get involved with Oxfam's child protection programs here.

Save the Children works to ensure that former child soldiers, among other vulnerable populations, have access to basic services when they're reintegrated. The organization provides education, vocational skills training mentorship and more. Its ultimate goal is to help child soldiers establish their livelihoods. Get involved with Save the Children's efforts here.

The International Rescue Committee offers medical and psychological attention and promotes community child protection committees. The IRC also improves academic options and develops vocational-training programs. "They will recover when communities fully accept the child back, and help him or her assume a positive role and identity," the organization states on its website. Get involved with IRC's efforts here.

An estimated 30,000 children have been abducted by the Lord's Resistance Army to carry out horrific crimes, according to "Kony 2012." But even when these young soldiers escape, families are often times reluctant to take them back because they're regarded as targets for potential attacks. SOS Children's Villages offers lifesaving support for these ex-soldiers with its family-tracing services, trauma counseling and community reconciliation. Learn how you can sponsor a Ugandan child here.

When Child Soldiers International was born, it pressed for a global ban on military recruitment of people below the age of 18. Today, the organization works to implement the treaty that was passed in 2002, according to its website, which more than 140 governments have ratified. Get involved with Child Soldiers International's efforts here.

World Vision seeks to end the use of children as soldiers by advocating for the provisions of the Child Soldier Prevention Act. The bill, signed into law, places limits on provisions the U.S. provides to countries that engage in the practice. Get involved with World Vision's efforts here.