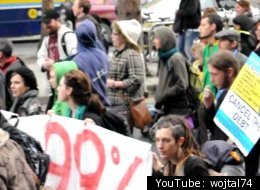 In anticipation of St. Patrick's Day, police cleared protestors from the Occupy Dublin site early Thursday morning.
The Guardian reports that only 15 people were at the camp outside Ireland's Central Bank when it was raided.
[Click here for the latest Occupy Wall Street updates.]
Authorities removed large tents, wooden shacks and a kitchen before hosing down the camp site, Ahram Online reports. Protesters told the site that police started pulling apart their tents while they were still sleeping. One arrest was made.
"We're not going to go away, we're in it for the long haul," Jim Mclean one of the 15 protesters told Ahram Online. "They (the government) are embarrassed because we're highlighting issues they're not dealing with."
On Wednesday, Tourism Minister Leo Varadkar said it was a shame protesters refused to willingly leave the site ahead of the the St. Patrick's Day festival.
"I think it's disappointing that they're not going to move the camp for a few days," Varadkar told the BBC. "I understand they feel very strongly about their politics but I'm sure they don't want to damage the festival."
Via HuffPost Miami:
When an Occupy Miami member offered evicted protestors vacant apartments in a building he owns in Downtown Miami's Overtown neighborhood, it seemed like the perfect solution: the 'Peace City' space would provide headquarters for the movement and shelter a small faction of the group's most vulnerable members. But it hasn't gone well. Other tenants say the building has become a cesspool of drug use and violence while non-resident Occupy Miami members are trying to distance themselves from the 'radicals' -- all while the two factions are wrestling for control over Occupy Miami's social media sites and future plans.
The feud between the Overtown occupiers and more mainstream members has only gotten worse. The two factions are now battling for control of Occupy Miami's social media sites. The movement's main Twitter account recently announced it had been "hijacked by a small, non-consensus group of radical members." The Occupy Miami Facebook page was also temporarily hacked by someone inside Peace City. Meanwhile, the Overtown occupation is slowly driving away more moderate members.

"This is a black eye on the Occupy movement," says Shannon Reaze, an Overtown community organizer and Occupy Miami supporter who is now helping tenants move out of Paz's building. "The violence and drugs going on here are way outside of what I thought Occupy stood for. This place is destabilized."

...The supposedly hard-core activists here spend their days drinking and getting high. And as Peace City devolves into lawlessness, the most committed occupiers are leaving. Local landowners and politicians want the place shut down, while cops are suspicious. Yet as long as Paz wants the protesters around, nothing short of a demolition order can keep them out.