Bay Area Open Houses: The Four Best Spots On The Market This Weekend (PHOTOS)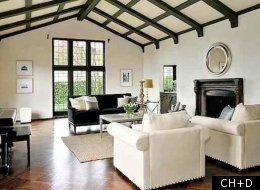 This article comes to us courtesy of California Home + Design.
By Philip Ferrato
Last week we had a look at properties in lower Marin County. Across the Bay Bridge, here are four open houses to check out this weekend in Piedmont, Berkeley, Oakland and Kensington, all worth looking at for their unique style and detail and open Sunday March 11 from 2:00pm to 4:30pm.
A vintage house on a small lot, this 3-bed, 2.5-bath English style house is smack in the middle of suburbia, but once inside, you'd never know it. Built in 1928 and on the market a week, the beautifully-detailed house has been simply renovated/decorated on the ground floor with one aesthetic-- dark wood and white walls-- making for either a great clean slate to start or a very stylish house to just move into (the bedrooms look like... bedrooms.) The living room (above) is a great space, and we especially liked the fireplace detail in the dining room (in the listing link.) Now surrounded by newer, post-WWII houses, this handsome house probably occupied a larger lot. Open on Sunday, March 11, from 2:00pm to 4:30pm

Moving up to Berkeley and the 21st Century, there's this 3-bed, 2.5-bath Mission/Craftsman Style house built in 2008 and on the market just a few days. There's a virtual tour worth a look. While we're not crazy about the decor, it's a house with good basic bones using recycled redwood and fir, and it's got the advantage of being a new house in a lovely neighborhood of vintage ones. Inside, it's a lesson for architects/designers-- figure out where the televisions are going early in the design process-- although I applaud the two dishwashers in the open kitchen. A pleasant walk to Chez Panisse and the Cheese Board Co-op, there's also a legal 1-bed, 1-bath cottage with a new kitchen on the other side of the patio. Open on Sunday, March 11, from 2:00pm to 4:30pm

All I want to know-- does that "winged victory" statue come with this 2-bed, 2-bath mid-50s house? The listing describes it as "chic" and it is a throwback-in-miniature to classic French villas from the 30s. While the current decor needs re-thinking, it more a matter of new paint colors and possibly some wallpaper removal in the well-proportioned rooms. On a small lot without a lawn and landscaped for privacy, the house has been on the market about a week. We love that the vintage windows are intact and not replaced with vinyl sliders. Open on Sunday, March 11, from 2:00pm to 4:30pm

Full disclosure: I've coveted this house since it came on the market last year. The 6-bed, 3-bath house was built in 1933, and very much like the early work of Cliff May, taking the classic rancho and melding it with the carpenter-built aesthetic that came to California with the Gold Rush. Previously owned by an eminent UC Berkeley professor, most of the upstairs has been converted to a vast office/library with custom shelving and cabinetry, but which could easily become the master bedroom. Altogether, the house is a challenge. It needs a lot of work, but the bones are there, along with remnants of landscaping and multiple terraces with lemon trees and fuschias as old as the house. There's a grand, beamed living room, which like many of the rooms is paneled in painted fir planks and opens onto the courtyard. Plus a swimming pool. It's now re-listed with a new agent and priced at $105K less. Open on Sunday, March 11, from 2:00pm to 4:30pm
See all of the best California real estate news, listings and open houses at California Home + Design
More from CH+D: View all the winners of the 2012 CH+D Awards
Follow California Home + Design on Twitter and Facebook