Toddler Who Died From Cancer Inspires Parents To Shave Heads, Raise Funds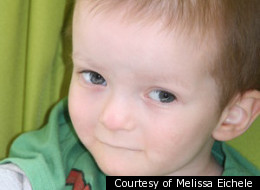 At the center of an end table in the Eicheles' dining room is a poster dedicated to their son, Tanner. There are two photos of him, two blue hand prints and a flier for a fundraiser in his honor.
At the bottom of the poster is a nameplate, in all lower case letters, that reads "tanner jayden 2007-2011."