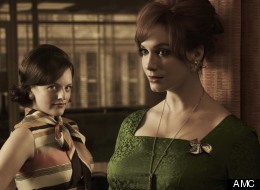 Only 16 more days until we finally get a taste of "Mad Men" again. Season 5 premieres on AMC with a two-hour, Jon Hamm-directed episode on Sun., March 25.
"I think this season is the best yet. I really do," John Slattery, who plays Roger Sterling, told The Huffington Post in January.
But to whet our starving Don Draper appetites, the first images from the long-awaited "Mad Men" Season 5 have been released. So raise your Manhattans to that!
From a fabulously looking Peggy Olson to the always dapper (and douchey) Roger Sterling, take a look at the nearly 30 new "Mad Men" photos to satiate your hunger pains.
'Mad Men' Season 5 Photos

'Mad Men' Season 5 Photos

'Mad Men' Season 5 Photos

'Mad Men' Season 5 Photos

'Mad Men' Season 5 Photos

'Mad Men' Season 5 Photos

'Mad Men' Season 5 Photos

'Mad Men' Season 5 Photos

'Mad Men' Season 5 Photos

'Mad Men' Season 5 Photos

'Mad Men' Season 5 Photos

'Mad Men' Season 5 Photos

'Mad Men' Season 5 Photos

'Mad Men' Season 5 Photos

'Mad Men' Season 5 Photos

'Mad Men' Season 5 Photos

'Mad Men' Season 5 Photos

'Mad Men' Season 5 Photos

'Mad Men' Season 5 Photos

'Mad Men' Season 5 Photos

'Mad Men' Season 5 Photos

'Mad Men' Season 5 Photos

'Mad Men' Season 5 Photos

'Mad Men' Season 5 Photos

'Mad Men' Season 5 Photos

'Mad Men' Season 5 Photos

'Mad Men' Season 5 Photos

'Mad Men' Season 5 Photos