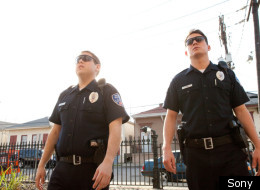 Conventional Hollywood wisdom states that films eyeing the Oscar for Best Picture must to make a splash in Toronto. The Toronto International Film Festival has helped launch winners-to-be like "American Beauty," "The Hurt Locker" and "The King's Speech" to awards glory, and it gave "The Artist," which premiered at Cannes, an added push. But where should filmmakers turn if they have an R-rated comedy hoping to take the masses by storm? Try Austin's South by Southwest Film Festival.
"In my experience, there are three amazing film cities in America: Los Angeles, New York and Austin," said Michael Bacall, the screenwriter behind "21 Jump Street," which will have its premiere at SXSW on Monday night before hitting theaters on March 16. "Austin may just edge out the coasts on that one. It is an amazing place to be a film lover." It's also an amazing place to be a comedy lover. The festival has become a bastion of funny in recent years, with an expanded podcast and stand-up lineup, in addition to the already established music and interactive portions. That growth has caused movie studios to take note. Last year, Universal screened a cut of "Bridesmaids" for SXSW attendees, which sparked the great buzz that accompanied the film through its release in May.
"It was a terrifying screening because we didn't screen until 12:30 in the morning," said "Bridesmaids" director Paul Feig to Moviefone. "When I got in there it was almost all dudes and it was so late at night -- there was this moment of, 'Oh boy, we might be in trouble.'" Despite a negative review in Variety following the screening -- they weren't.
"When we went through the roof, that meant more to us than anything," Feig said about the instant positive reaction the screening received online. "That was the event that got the word on the streets. It really got us a lot of press. The word went out on the Internet from all the people who were there that they liked it. It was indispensible for us."
Even better, it lent "Bridesmaids" a bit of hipster cachet that doesn't accompany other film festivals.
"It was cool," Feig noted. "Sometimes these film festivals can feel a little bit big or corporate, and SXSW still feels super cool because it's music and it's Austin. It's still kind of underground, in a way. I couldn't have been more thrilled that we made that choice to do that."
Sony likely agrees; that's one reason the studio is debuting "21 Jump Street" -- an R-rated comedy in which Jonah Hill and Channing Tatum fire off gun shots and dick jokes with equal fervor -- in Austin.
"If you look at all the festivals, like Venice or Toronto or Cannes, [they] may be a little older," said Marc Weinstock, president of worldwide marketing for Sony Pictures. "SXSW is a very 17-34 audience festival, and that's our core audience for this movie. It's just the right atmosphere to play in -- and I think it's going to be huge. I think the screening is going to be infectious. Everyone there is going to be like, 'Oh my God, I saw the funniest movie of the year.' It really propagates the buzz."
While that might sound like typical marketing bombast, even Feig contends that SXSW is the perfect jumping-off point for "Jump Street."
"When I heard they were doing '21 Jump Street' there, I was like, 'That's genius,'" he said. "The people making up that audience are the same people that are gonna come out and buy tickets for your movie. That's what I love about SXSW. To me, unscientifically speaking, it feels like the most representative audience for a populist comedy."
That fact isn't lost on Bacall -- the screenwriter behind current hit "Project X" and cult favorite "Scott Pilgrim vs. The World" -- who said he's honored the movie is premiering in Austin.
"There's such a good vibe in that city," he said, before happily adding, "It's a great party town. Those people are crazy."
The SXSW Film Festival runs from March 9 through March 18. For full SXSW coverage -- from comedy to music to movies -- click here. Check back to Moviefone all week for updates from Austin.
PHOTOS: Most Anticipated SXSW Films
After premiering at Sundance back in January and nabbing a distribution deal from FilmDistrict, "Safety Not Guaranteed" has made its way south. The film -- based on a 2005 Internet meme about a man who placed a classified ad looking for a time-travel companion -- stars Aubrey Plaza ("Parks and Recreation") and Jake Johnson ("New Girl") and could be the quirky romance that your hipster friends just need to see when it hits theaters this June.

Matthew Lillard is having a moment. After being the guy who stole George Clooney's wife (!) in "The Descendants," the former Shaggy makes his directorial debut with "Fat Kid Rules the World," a drama about a suicidal overweight teen (Jacob Wysocki) who joins a punk rock band. Fun fact: Pearl Jam's Mike McCready did the music!

Normally when a movie sits on the shelf for three years, it's a sure sign of disaster. In the case of "The Cabin in the Woods," however, it was just a matter of bad timing. Shot in 2009, the film was originally set to get released in Feb. of 2010, but MGM delayed its release to Jan. of 2011 before filing for bankruptcy. That was shifted to April 13, 2012 when Lionsgate picked up "Woods" last summer. This all boils down to one thing: now you'll finally get to see one of the best and most inventive horror movies to come out in the last three years. Co-written by Joss Whedon and Drew Goddard ("Cloverfield") and directed by Goddard, "The Cabin In the Woods" stars Chris Hemsworth and a bunch of fresh-faced youngsters, who travel to the titular residence and come across all kinds of terror. The film will open SXSW on Friday, meaning you can expect your Twitter feed to tell you about its awesomeness pretty much straight through the next week.

After premiering in Berlin back in February, "Marley" -- a documentary, not surprisingly, about Bob Marley (not another heart-wrenching dog flick) -- will have its North American debut at SXSW before it opens in April. Director Kevin MacDonald ("The Last King of Scotland") directs the nearly two-and-a-half hour feature, which focuses on Marley's life and tragic death.

In front of its theatrical debut on March 16, "21 Jump Street" will screen for audiences at SXSW. Which, if things go according to plan -- 20somethings singing the praises of Jonah Hill -- will prove a shrewd business move. Carried by raunchy humor, blistering action and a star-making performance from Channing Tatum, "Jump Street" has the chance to strike the same gold as "Bridesmaids," which screened at SXSW last year.

All you need to know about "Small Apartments"? It's crazy cast: Matt Lucas, Billy Crystal, Juno Temple, James Marsden, Peter Stormare, David Koechner, Rosie Perez, Dolph Lundgren, with James Caan, and Johnny Knoxville. One, please!

Celebrity photographer Kevin Mazur directs the documentary "$ellebrity," which features stars like Jennifer Aniston and Jennifer Lopez discussing fame and fortune in the TMZ era. Will the stars be as candid as you want them to be? Here's hoping.