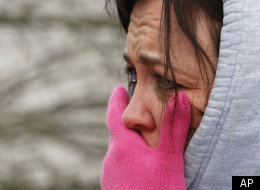 As heartbreaking stories of tornado victims who have lost it all continue to emerge, do-gooders have been inspired to donate their time and money to help. But as the number of philanthropists coming forward increases, so too is the number of scammers looking to make a buck, the U.S. Department of Justice reports.
The National Center for Disaster Fraud, established in 2005 to deter and prosecute Hurricane Katrina fraud relief, is amping up its security measures in the wake of the twisters hitting the Midwest and the South.
"Many individuals feel compelled to contribute to victim assistance programs and organizations across the country," the Department of Justice said in a release. "The Department of Justice and the FBI remind the public to apply a critical eye and do its due diligence before giving to anyone soliciting donations on behalf of tornado victims."
To help point donors in the direction of legitimate charities that are actually helping those in need, the DOJ has issued a list of guidelines to consider.
Read through our slideshow of the top five tips to consider before contributing money to a charity claiming to help tornado victims.
If you come across a fraudulent relief organization, or believe you have been a victim of fraud, contact the National Center for Disaster Fraud by phone at 866.720.5721 or via email at disaster@leo.gov.
For a list of relief organizations taking action in the affected regions, click here.
SLIDESHOW:
How To Avoid Charity Scams
While it may be tempting to click on photos of the tornado destruction attached in an email, be cautious. The Department of Justice warns that fraudulent organizations may include files that contain viruses.

Even if an organization has the words "Salvation" or "Relief" in the name, that doesn't mean that it's legitimate, the Department of Justice warns. Often times, scammers will just change one word of a well-known charity to trick donors to give to the fake organization that they've set up.

Fraudulent charities put the heat on to donate, legitimate charities don't, the Department of Justice said in a release. If a representative claiming to call from a nonprofit uses coercive tactics, don't submit to the pressure.

The safest way to give to an organization is by check, credit card or debit card. The Department of Justice recommends avoiding cash donations, if possible.

While most legitimate charities maintain websites ending in .org, according to the Department of Justice, that's still not enough of an indication that you should trust the people you're dealing with. Anyone can obtain a .org, Ken Berger, CEO of Charity Navigator, told The Huffington Post in December, so make sure to verify that the nonprofit is in fact registered as a 501c3.