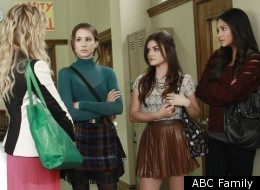 From Blaire Waldorf's Manhattan chic frocks on "Gossip Girl" to Victoria Grayson's signature bandage dress couture on "Revenge," some of the season's hottest looks are coming directly from our TV screens.
This week in TV was no exception. Belle's (Emilie de Ravin) pretty princess attire on "Once Upon a Time" was a fairytale-inspired favorite. But not all characters hit the right mark -- Spencer's (Troian Bellisario) see-through turtleneck and Aria's (Lucy Hale) fish dress on "Pretty Little Liars" were two total misses.
Click through the gallery below to see HuffPost TV's best and worst dressed TV characters of the week.
TV's Best & Worst Dressed Of The Week
Watch out Blaire Waldorf! Jane Quimby is quickly becoming one of the most fashionable girls on TV. At the Donovan Decker fashion show in Lincoln Center, Jane showed off her awesome fashion sense -- and her super long legs -- in this gorgeous teacup-length black-and-white dress, complete with metallic and lace accents. It's the perfect balance of sexy and sweet.

Like this needs any explanation. What exactly is Xtina wearing on her head? Is she trying to be a disco biker babe, because we think Cher has that look covered. This flying saucer-shaped hat just doesn't fly with us.

Following a trend is never a bad thing -- unless, of couse, the trend is hideous (hello, Uggs). Perhaps the biggest trend this season was capturing the perfect Marilyn Monroe look, and Ivy Lynn on "Smash" nails it. She has the curves to work Marilyn's iconic sexy image, and she looks fabulous being "Bad."

Why does Hanna look like she walked out of a scene from "Beetlejuice"? And what's with Spencer's see-through turtleneck? But the worst dressed little liar this week by far is Aria, who thought that this Betsey Johnson fish dress was a okay to wear in public.

Belle was always a bit more plain than her fairytale friends, but that's not necessarily a bad thing. In this week's "Once Upon a Time," Belle (Emilie de Ravin) looked like the fairytale princess that she was born to be, proving that it's not all about pink tulle and sparkles.

Speaking of matchy-matchy mishaps, our "New Girl" favorite Schmidt made the mistake of matching his aqua hoodie with his aqua tennis shoes. Hey girl, what were you thinking? Thankfully, as usual, Jess looks adorkable.

We'd like to think that in this photo, Blake Shelton -- like the rest of America -- is looking at Adley's gravity-defying hair and wondering how many cans of hair spray it actually took to get it to stand up like that. We're guessing it's at least two. But Adley's hair isn't the only thing that's wrong with her look. Being too matchy-matchy is never a good thing, and Adley's silver bandana and matching silver top was too much for our TV screens.

Yes, Ellie and Laurie may have chosen some unusual accessories in this week's "Cougar Town," but any characters that can actually pull off a riding helmet (sans horse) and an aviator helmet (sans airplane), without looking completely ridiculous, gets an A in our fashion books. After all, Fall TV was all about stylish hats.

Sure, Andy may have been trying to stand up for his cul-de-sac crew, but this "Braveheart"-inspired look is all kinds of wrong. Plaid, cuffed jeans and loafers? Yikes.