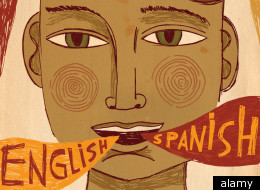 Politicians aren't the only ones trying to speak in Spanish. Some of our favorite Hollywood celebrities have gone down the same road trying to hablar en Espa&ntildeol.
With 329 million native speakers, Spanish ranks as the world's No. 2 language in terms of how many people speak it as their first language.
Spanish is the official language of 24 different countries. From Mexico to Argentina, different Spanish accents are endless.
And words that mean one thing in one country, mean something completely different in the next. It's a complicated language! And, for some definitely more than others.
In the video slideshow below, a number of celebrities give their best shot at speaking Spanish and you'd be surprised which ones spoke it well and which ones completely failed (no, having Hispanic heritage doesn't necessarily make you a fluent speaker).
Take a look at their attempt to speak Spanish and tell us who do you think did it best:
Celebrities Speaking Spanish
"30 Rock's" Liz Lemon (or 'Limona') is getting her "dream vacation" by picking garbage for her community service during the summer and in the meanwhile learning how to speak some Spanish. Kudos to Tina Fey for learning how to roll her R's: "grrritale a Hector!"

Rachel learned Spanish from her nanny who taught her how to say "Tu madre es loca" ("Your mom is crazy"). And although Rachel sounds very cute in Spanish, she still needs to work a bit on her grammar.

We knew she was good with potions, spells and concoctions but we weren't aware little Hermione also knew how to speak Spanish. Although she's probably better with magic than she is with speaking the language, Emma Watson is still terribly charming in Spanish.

Dakota Fanning tells the host of the ABC show "buenos dias, mucho gusto en conocerla" ("good morning, nice to meet you") with a charming smile proving that she is equally as adorable in English and as she is in Spanish.

"Hijoleee Mano!" Apparently, when Hollywood heartthrob Ben Affleck speaks Spanish he puts on a Mexican accent. In this video Affleck is promoting his movie "The Town" and telling us about his man-crush on John Hamm (or Juan Hamm). Even though rumor has it that he learned it from his ex girflriend Jennifer Lopez, the actor learned Spanish when he lived in Mexico as a kid.

Even though Selena Gomez's father is Mexican and she has a couple of songs in Spanish, the singer is not exactly fluent in the language. Back in 2010 Gomez said she wanted to get Rosetta Stone in order to really learn Spanish. Gomez told Latina Magazine, "I practice [Spanish], but I can understand it better than I can speak it."

Basketball player Kobe Bryant speaks fluent Spanish thanks to Don Franciso and "Sabado Gigante." Although he is joking and he actually learned Spanish because he speaks Italian, with that grin on his face we can't help but think that Kobe is a big fan of Don Francisco.

Actress Zoe Saldana, grew up in Queens speaking Spanish and English. Her father is Dominican and her mother is Puerto Rican. In the video the actress proves she still speaks perfectly fluent Spanish and has a very serious personality: "I didn't behave like the only girl [in the movie]," said Saldana. "I don't think like a woman. I think more like the guys. I have two sister. We're three girls at home. My mom wanted to have boys. She raised us with that independence and with a neutrality. She didn't raise us thinking 'you're only women' and men are only men. No, she told us 'you are whatever you want'."

Although Eva Longoria didn't learn how to speak Spanish until later in her life, the "Desperate Housewives" star sounds like a natural. But here's some topics she still stays away from. "I can't argue politics in Spanish," Longoria told USA Today. "But I get by."

Santana Lopez, portrayed by actress Naya Rivera, is a fiery Glee club member. In this episode Santana looses her temper with Rachel and let's out her frustration in the best way she knows how: with a loud rant in Spanish.