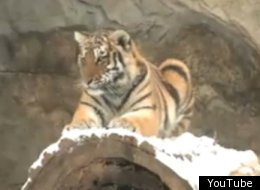 With the final days of winter upon us, there's no better time to take a look at some videos of the cutest animals tumbling in various winter wonderlands.
From a pair of giant pandas playing in a nature reserve to a baby polar bear taking its first steps, there's nothing more adorable than furry friends playing in the snow.
Can't get enough cuteness? Be sure to check out these adorable pets submitted from around the world or these adorable animal photos of the week.
See the top six videos of animals playing in the snow in the slideshow below.