The 13 Most Conservative Colleges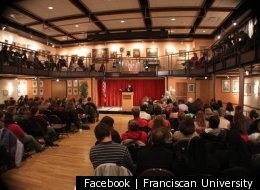 Presidential candidate Rick Santorum likes to warn the country about the liberal "indoctrination mills" being run as public universities around the country. Thankfully, the Young America's Foundation has named 13 of the most conservative schools in the country where students don't have to worry about a liberal influence.
We've run down what makes some of the schools so conservative, such as classes on "Human Embryology," banning students from premarital sexual activity, and featuring Santorum himself as a member of their Advisory Boards. We also found out where the infamous Winklevoss twins' father went to college.
Check out the complete list:
Most Conservative Colleges According To The Young America's Foundation
Christendom is a Catholic college located in Front Royal, Va. Republican presidential candidate Rick Santorum (seen in the photo above from an appearance on campus) serves on their advisory board. The school has about 400 undergraduates. Photo Credit: Christendom College

Founded in 1906 with some buildings from the St. Louis World's Fair, College of the Ozarks is a private Christian school where students work instead of paying tuition. Newt Gingrich, George W. Bush and Sarah Palin have all spoken there in the past four years. Photo Credit: KTrimble

This Catholic college in Steubenville, Ohio is likely the only place a student can take a class called "Human Embryology" taught by a zoologist. "I was inspired to create the course after attending an Operation Rescue prayer chain in Pittsburgh," Edwin Bessler, the professor of the course, told a conservative news outlet. "The intensity of good and evil was so great that two words ran through my head: 'Teach them.' That's how the course and Franciscan's human-life minor came into being. ... A fertilized egg doesn't look like us, just as a consecrated Host doesn't look like Jesus, yet it is." Some of this school's alumni have served as Republican Congressmen and as contributors to Fox News. Photo Credit: Franciscan, Facebook

2,500 students go to this Christian school near Pittsburgh in Grove City, Penn. According to college president Richard Jewell, "The two tenets that this school [finds most important] are faith and freedom." The school has its own think tank. Notable alumni include former Bush administration officials, Matt Kibbe, a leader of the tea party group Freedom Works, and Howard Winklevoss who is in fact the father of the infamous Winklevoss twins. Photo Credit: Menuet

Harding University is a Christian university in Searcy, Ark. where students are not allowed to engage in any sexual activity outside of marriage. The school has had the biggest names in conservative and Republican politics speak at its school. Some of the notable ones include Margaret Thatcher, George H.W. Bush and George W. Bush, Laura Ingraham, Steve Forbes, Robert Bork, Sean Hannity, Sam Walton, Dick Cheney, William F. Buckley, Jr. and Cal Thomas. Photo Credit: Hotnhumid

This private liberal arts college was the first college to prohibit discrimination based on race, religion or gender in its charter. According to its mission statement, "The College considers itself a trustee of modern man's intellectual and spiritual inheritance from the Judeo-Christian faith and Greco-Roman culture, a heritage finding its clearest expression in the American experiment of self-government under law." Students at this school in the past got to hear from conservative icons Ronald Reagan and Margaret Thatcher. Photo Credit: Chuck Grimmett

This New York City school puts students into groups they call "houses," named after conservative icons like C.S. Lewis, Ronald Reagan, Margaret Thatcher, Winston Churchill, and Dietrich Bonhoeffer. Photo Credit: Golson92

Liberty is perhaps one of the most well known conservative schools. This is partly because of recent controversies like banning students from forming a College Democrats group because their beliefs go against the school's teachings. The school was founded by Jerry Falwell, who was a controversial figure in American politics. Photo Credit: Entheta

Not to be confused with Patrick Henry University, the fictional school in Atlas Shrugged, this evangelical Christian college in Purcellville, Va. refuses any financial aid, including federal student loans. Photo Credit: Patrick McKay

At Regent University's law school, students respond with "amens" during class. Founded by the controversial televangelist Pat Robertson, it was originally called the Christian Broadcast Network University. During the Bush Administration, 150 alumni were hired by the federal government. Photo Credit: DebateLord

Thomas Aquinas College is a Roman Catholic school in Santa Paula, Calif., north of Los Angeles. Thomas Aquinas has no textbooks or lectures, rather it relies on primary sources and tutorials. According to the school's mission statement, "it is the truth, and nothing less, that sets men free." Photo Credit: Pgnielsen79

The Young America's Foundation says this school in New Hampshire will "nurture a new generation of leaders who are prepared to defend the Christian and free market roots." Photo Credit: Thomas More College of Liberal Arts

This Milwaukee private college has nearly 1,000 students affiliated with the Wisconsin Evangelical Lutheran Synod. They've featured guest speakers such as U.S. Ambassador Jean Kirkpatrick, former Vice President Dan Quayle and pundit Michael Medved on campus. Photo Credit: Wisconsin Lutheran College, Facebook