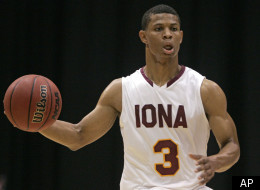 Iona may have snagged one of the last at-large spots in the 2012 NCAA Tournament but opponents should be far more concerned with the fact that the Gaels ranked as the No. 1 overall scoring offense when the Selection Committee chose them.
Iona's inclusion in the field of 68 teams was enough of a surprise on Selection Sunday that NCAA Tournament committee chairman Jeff Hathaway was compelled to make it clear that they were not the very last team to earn a bid. Led by prolific guard Scott Machado, the Gaels will push the tempo and move the ball to the open shooter in hopes of scoring enough points to make up for a porous defense.
CLICK HERE for your printable 2012 NCAA Tournament Bracket
Bringing its own prolific offense, the BYU Cougars will be happy to light up the scoreboard, too. Returning to the tournament again, BYU is making its ninth appearance in 12 years. Even with tournament sensation Jimmer Fredette having departed for the NBA, BYU isn't sneaking up on anybody these days, even if they may actually have been the very last team to sneak into the field as Erick Smith of USA Today surmised.
Could Iona be this year's Cinderella? Or will BYU show that they were more than just the Jimmer Show? The winner will go on to play No. 3 seed Marquette in the East Region.
Stay tuned for LIVE UPDATES throughout the game. Tweet @HuffPostSports to get involved in the conversation.

After trailing by 25 points in the first half, BYU comes all the way back to send Iona home. A stellar performance by Noah Hartsock and Brandon Davies on the interior and nimble coaching for BYU. The zone destroyed the Gaels' flow. Harrison provided a tone change from the bench. Amazing result!