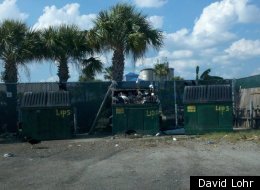 Authorities in Hawaii are trying to determine how human fingers belonging to an unidentified child wound up in a dumpster.
A woman collecting recyclables made the startling discovery on Feb. 12 inside a large steel waste receptacle at the Kukui Garden Housing Complex in Liliha. Gina Rose Vendegna found two complete fingers and four partial fingers inside a plastic bag that had been thrown into the dumpster, Honolulu police said.
"I thought [the fingers] were ginger root starting to dry out. I'm a gardener and I recycle, and I thought I'd be able restore them. So I threw them in my purse," Vendegna told KHON-TV.
It was not until later that day that the Kalihi mother of five realized the items in the plastic bag were not part of a plant.
"I knew for a fact those were fingers when I seen the fingernails," Vendegna said. "And people I tried showing them to tried telling me that it wasn't, that it might be monkey fingers. And I thought just by chance I'm going to call the police department, turn [them] in and let them decide."
Sgt. Kim Buffett with Honolulu CrimeStoppers told The Huffington Post that a forensic examination of the fingers could not determine whether the child was alive when the fingers were removed.
"[They were] unable to tell," said Buffett. She also said the medical examiner was "unable to determine how long [the fingers] had been like that."
Laboratory testing did reportedly indicate that all six fingers came from the same person -- a female child thought to be between 2-1/2 and 4 years old.
Police say Vendegna is not considered a suspect in the case. They also say they have yet to find any other related body parts.
"Just the fingers, sadly enough," Buffett said. "It's disturbing. We hope [the child is alive]."
Anyone with information about the case is asked to call CrimeStoppers at 808-955-8300.
REVIEW OTHER MISSING CHILDREN CASES:
Alexis Murphy, 17, has been missing since the evening of Aug. 3, 2013, when she left home to do back to school shopping in Lynchburg, Virginia. On Aug. 6, 2013, authorities found Alexis Murphy's white 2003 Nissan Maxima in the parking lot of a movie theater in Albemarle County, just north of Charlottesville. The location is approximately 39 miles from the Lovingston gas station where she was last seen. Murphy was not located with her vehicle. Randy Taylor, 48, has been arrested for abduction by force in connection with the disappearance of Alexis Murphy. Authorities have yet to comment on what evidence they have linking Taylor to the teens disappearance. Alexis Murphy is described as an African American female, 5-foot-7, weighing 156 pounds. She was last seen wearing a pink blouse, floral spandex pants and brown boots. She was carrying a gray purse. Anyone with information concerning the whereabouts of Alexis Murphy should contact the Nelson County Sheriff's Office at 434-263-7050.

Dalene Mcilwain, 15, was last seen at her mother's house in Niagara Falls, New York, on September 6, 2013. Authorities suspect the teen may be in Baltimore, Maryland, with an unidentified 24-year-old man. Mcilwain is described as an African American female, about 5 feet 2 inches tall and about 100 pounds. She has black hair, which authorities say may have been dyed gold, and brown eyes. Anyone with information on Mcilwain can call NCMEC at 800-THE-LOST (843-5678) or The City of Niagara Falls Police Department at 716-286-4547.

Authorities in Monroe, Louisiana are seeking the public's help in locating 16-year-old Jamison Tate. Teen was reported missing from the Johnny Robinson Boys home in August 2013. Authorities said Tate is from the Baton Rouge area and could be trying to return to that location. Tate is described as an African American male, 5'9" tall and weighing about 160 pounds. Anyone with information about Jamison Tate's whereabouts is asked to call the Monroe Police Department at 318-329-2600 or Crimestoppers at 318-388-2274.

Dannette (pictured left) and Jeannette Millbrooks, 16-year-old fraternal twins, disappeared without a trace on March 18, 1990, in Augusta, Georgia. According to relatives, the twins had gone to a relative's house to get some money to ride a bus back and forth to school. They then stopped by a friend's house. Afterward the twins walked to a nearby Pump-N-Shop gas station, where they bought chips and a drink. They have not been seen since. At the time of their disappearance, Dannette was approximately 5'6" 130 lbs. and Jeannette was approximately 5'4" 125lbs. They both attended 9th grade at Lucy Laney High School. The girls would be 39-years-old today. Anyone with any information about the disappearance of Dannette and Jeannette Millbrooks is asked to contact the Richmond County Sheriff's Office at 706-821-1080 or any Violent Crimes Investigator at 706-821-1020.

A combination of two pictures released by Madeleine McCann's family. One shows Madeleine at the age of 3 (L), and an 'age progression' image of what she would look like at the age of 9. Madeleine McCann disappeared on May 3, 2007, just days before her fourth birthday, from the family's holiday apartment at the Portuguese resort of Praia da Luz. Her parents were dining with friends at a nearby restaurant when she went missing. If you have any information on Madeleine's whereabouts, please contact the Operation Grange team at 0207 321 9251 or OperationGrange@met.pnn.police.uk. More info about Madeleine can be found at: findmadeleine.com

Michael Suarez Jr., 19, was last seen on August 31, at his 61st St. home in Mapleton, New York. According to his aunt, Linda Suarez, her nephew is schizophrenic and he has not had his medication. Anyone with information in this case is asked to contact the Crime Stoppers hotline at 1-800-577-TIPS, or text CRIMES and then enter TIP577.

Kathryn, 16 of Staten Island, New York, has been missing since Nov. 24, 2010. Her tongue is pierced and she has a scar over her left eyebrow. Kathryn may go by the nickname Kat or Kathy.

This image from Facebook shows missing 7-year-old Timothy Pitzen. Timothy has missing from Aurora, Ill. since May 12, 2011, but was last seen at a water park in Wisconsin Dells, Wis. He was last known to be in the company of his mother, who has since been found deceased in Rockford, Ill.

Jamal Omar Briggs, 14, was last seen in Roanoke Rapids, North Carolina, on Sept. 26. Detectives with the Roanoke Rapids Police Department said they have no evidence of abduction or foul play. Briggs is described as a black male, 5-feet, 3-inches tall, weighing 135 pounds. He was last seen wearing a red heavy shirt, black jeans and black Jordan tennis shoes. Anyone with information regarding Briggs' whereabouts is asked to call the Roanoke Rapids Police Department at 252-326-3938.

Sarah Elizabeth Kinslow, 14, was last seen by her parents on May 1, 2001, when her dad dropped her off at Greenville Middle School in her hometown of Greenville, Texas, at approximately 7:20 a.m. It was not until after the school day ended that the Kinslows were notified their daughter had not attended any of her classes. According to Louise Kinslow, her daughter had never run away in the past and was unprepared to be gone for an extended period of time when she went to school that day. Sarah Kinslow would be 25 years old today. At the time of her disappearance, she was 5-foot-4-inches tall, weighed 105 lbs., and had blonde hair and blue eyes. Her teeth were crooked and she had several ear piercings, a tattoo of the letter "I" on the inside of her ankle, a chicken pox scar on her left temple, and two chicken pox scars on her left cheek. Anyone with information is asked to call the National Center for Missing & Exploited Children at 1-800-843-5678 (1-800-THE-LOST) or the Greenville Police Department at 903-457-2900.

Christopher, who has been missing since May 18, 1989, was last seen in a park located on 114th Street and Lenox Avenue in Manhattan, New York. He has a birthmark shaped like a figure "8" on his neck. He was 2 years old when he went missing.

In this photo released by the Florida Department of Law Enforcement is a portrait of Trenton Duckett, a 2-year-old boy who was reported missing on Aug. 27, 2006, from his home in Leesburg, Fla. The boy's mother Melinda Duckett, 21, was found dead from an apparent self-inflicted gunshot wound Friday, Sept. 8, 2006, at her grandparents' central Florida home, police said. Trenton's disappearance remains a mystery.

Caelan, of Brooklyn, New York, was last seen with his non-custodial mother on 02/21/2002. He has a scar on his forehead and his hair is braided. Caelan was last seen wearing blue jeans, a blue polo shirt and black "ACG" boots. He may be in need of medical attention. Mother and child may have traveled to Trinidad and Tobago.

Brittanee Drexel, of Rochester, N.Y., was 17 years old in April 2009, when she went to Myrtle Beach, S.C., on spring break. The teen was last seen by friends on April 25 of that year, when she left the Bar Harbor Hotel in Myrtle Beach to meet friends at the nearby BlueWater Resort. Surveillance footage shows Drexel arriving at the resort, then leaving roughly 10 minutes later. What happened to her after that remains a mystery. Her cell phone gave off its last signal the day after she went missing. Investigators narrowed the phone location to an area near the South Santee River in Georgetown County. To date, no sign of Drexel has been found. At the time of her disappearance, Drexel was 5 feet tall and 103 pounds. She had blue eyes and blond highlights in her hair. Anyone with information in the case is asked to contact Myrtle Beach Police at 843-918-1382.

Jeremiah George Huger, who has been missing since June of 1985, was playing in his yard in the Bronx, New York, with other children when an unknown black male called to the child and then grabbed him. Jeremiah, who was 4 when he disappeared, has a 1 1/2" scar on his left forearm. He was last seen wearing a light blue shirt, dark blue shorts, and white sneakers.

An undated photo provided by the police in Bellvue, Wash. shows Sky Metalwala, 2, who has been missing since Sunday, Nov. 6. He disappeared after his mother says she left him alone in an unlocked car after it ran out of gas. She says she took her 4-year-old daughter with her and when she came back about an hour later, the boy was gone. (Bellevue Police / Seattle Times / AP)

Amir Jennings, 1, has been missing from Columbia, S.C., since Nov. 24, 2011. Family members originally filed a missing persons report for Amir and his mother, Zinah Jennings, when they could not locate them. On Christmas Eve, Zinah Jennings was involved in a car accident. The responding officer noticed that Jennings was considered a missing person. Police say that when Jennings was questioned about her son, she gave "false and inconsistent information." Police also believe Jennings has ties to the Atlanta, Ga. and Charlotte, N.C. areas. There is a $10,000 reward for the safe return of Amir. Anyone with information is asked to contact the Black and Missing Foundation, at blackandmissinginc.com.

Kyron Horman was 7 years old when he disappeared on June 4, 2010. His stepmother, Terri Moulton Horman, told police she last saw the little boy walking to his classroom at Skyline Elementary School in Portland, Ore. The search for Kyron has become one of the most intense in recent Oregon history and has attracted national attention. His parents have held countless vigils, passed out thousands of fliers and issued numerous public pleas, all to no avail.

Joshua Davis, 2, was last seen at his New Braunfels, Texas, home on Feb. 4, 2011. He was watching the movie "Toy Story" with his mother when he left the room and vanished. The toddler's mother believes her son was abducted. Anyone with information on Joshua's whereabouts is asked to contact the Black and Missing Foundation, at blackandmissinginc.com.

Reyna Guadarrama, 9, was last seen in Grayslake, Ill., on Nov. 02, 2007. She may be in the company of her non-custodial mother and an adult male. They may travel to Mexico. Anyone with information is asked to contact the Black and Missing Foundation, at blackandmissinginc.com.

Khaniya Margarett Roberts, A.K.A. "Kiki," age 10, was last seen in Miami, Fla., on Dec. 3, 2011. She may be in the company of her mother. Anyone with information is asked to contact the Black and Missing Foundation, at blackandmissinginc.com.

Dwight Stallings, 1, has been missing from Elk Grove, Calif., since April 2011. Authorities say the child has not been seen by family members and his mother, Tanisha Edwards, 35, has been unable or unwilling to reveal what happened to him. A $3,000 reward is being offered for information leading to the whereabouts of Dwight Stallings. Anyone with information is asked to contact the Black and Missing Foundation, at blackandmissinginc.com.

Malikah Beeks, 17, of Cleveland Heights, Ohio, was last seen on April 11, 2012. Beeks is a possible runaway and may be with her 14-month-old son, Logan Beeks. Anyone with information on Beeks' whereabouts is asked to contact the Black and Missing Foundation, at blackandmissinginc.com.

Maayimuna Nyeeleni Njayi N'Diaye, 4, was last seen in Morehead, Ky., on Jan. 1, 2012. Maayimuna was allegedly abducted by her father, Ibrahim N'Diaye. A felony warrant was issued for him on Jan. 13, 2012. They are believed to be in Mali.

Kaylee Melara, 17, was last seen in Braintree, Mass., on Jan. 14, 2011. Melara is biracial and has a tattoo on her upper right arm. Anyone with information is asked to contact the Black and Missing Foundation, at blackandmissinginc.com.

This photo released by the Putnam County Sheriff's Office shows Haleigh Cummings, 5, of Satsuma, Fla. Haleigh was last seen at home in the early-morning hours of Feb. 10, 2009. She was reported missing about 3:45 a.m. by Misty Croslin, the then-girlfriend of Haleigh's father, Ronald Cummings. Croslin told police she discovered Haleigh was missing when she woke up to use the bathroom. Law enforcement as well as private search-and-recovery groups have conducted multiple searches for Haleigh, but no sign of her has been found. Authorities have not named any suspects in the case; however, they say they have not ruled anyone out.