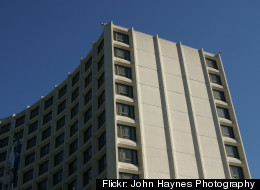 WASHINGTON -- Ever since then-President Ronald Reagan was shot outside the Washington Hilton hotel in March 1981, the Brutalist concrete structure has been informally referred to as the "Hinckley Hilton," a reference to would-be assassin John Hinckley Jr.
But the hotel at 1919 Connecticut Ave. NW has never been officially recognized as the "Hinckley Hilton."
But you might get that impression if you're on Google Maps, as Topher Matthews of Georgetown Metropolitan points out.
@GeorgetownMet

Topher Mathews
Hey Google, you do realize it's not actually called the Hinckley Hilton, right?
http://t.co/LoKfKnYa
Google Maps is far from perfect in its labeling. In D.C., it currently fails to plot the location of the Metro Center station, the busy downtown transit junction.
Photo by Flickr user Jon Haynes Photography