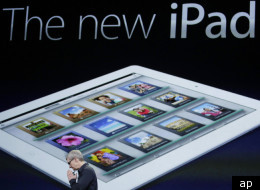 Reviewers love the new iPad. Daring Fireball's John Gruber writes, "Reading on the big retina display is pure joy." All Things D's Wal Mossberg tells readers the screen is so amazing that you literally have to see it to believe it. TechCrunch's MG Siegler actually warns people who are sticking with their iPad 2s not to even look at the new iPad because they will be forever scarred by what might have been.
So is there anything not to love? Of course there is, even if some writers appear to be deeply digging to find something to gripe about. Their complaints range from the pretty big (you can't use FaceTime via 4G) to the minute ("warm corner").
Take a break from iPad praise to find out which 6 aspects of the new tablet reviewers don't quite love (below). Then check out what the reviewers love about the new iPad, and find whether HuffPost Tech's Captain Gadget thinks current iPad owners should consider buying the new model.
The Verge's Dieter Bohn found a small but "vexing" problem while attempting to use FaceTime over the new iPad's 4G network. "[A]ttempting to initiate a FaceTime call over LTE fails out with a message exhorting you to connect to a Wi-Fi network," he wrote. While it has always been true that FaceTime only worked on Wi-Fi and not over cellular networks, Bohn points out that this is especially annoying when you can turn your Verizon iPad into an LTE hotspot, which would allow you to FaceTime on other devices but not on the iPad acting as the hotspot. TechCrunch's MG Siegler echoes Bohn's complaint about FaceTime being available only via Wi-Fi, "despite the fact that the LTE networks are so much faster (faster than my WiFi even), Apple says that FaceTime will still be WiFi-only for now."

Reviewers found that enhanced apps and high-definition movies look amazing on the iPad's mind-blowing Retina display, but they noted with disappointment that non-HD content doesn't quite shine. According to Macworld, un-enhanced apps look super pixelated on the Retina screen: "Non-Retina apps look more or less like they did on previous iPads -- but on the new iPad's Retina display those pixels really stand out." While the New York Time's David Pogue calls the iPad "the world's first tablet that can actually show you hi-def movies in full 1080p high definition," he also notes that Netflix doesn't currently offer movies in high-def for the iPad, so many average consumers won't be able to enjoy all the new iPad's display has to offer.

While The Verge's Joshua Topolsky praised the video and photo capabilities of the rear camera he was less enthused about the front-facing module, writing: Around front, you can expect the same basic quality of the last generation iPad -- which means it's nothing to write home about. It would have been nice to see at least a 720p shooter on the flip side of the tablet considering how hard Apple's been trying to push FaceTime, but you're stuck with VGA here.

Many were surprised that Apple's voice-activated assistant Siri wasn't one of the iPad's upgrades. A new dictation feature allows users to get around some of the problems that the device's virtual keyboard presents, but as Pogue writes for the Times, that's as close to Siri that the new tablet users will get. Users will have to pour one out for the rest of Siri's features, including "the ability to set alarms, send text messages, look up calendar appointments and snag facts from the Web just by asking out loud," Pogue lists. SlashGear also laments the absence of Siri, citing it as the biggest omission in the new iPad.

It's a good indication of how much the reviewers are loving the iPad when one of the main complaints in TechCrunch's review is about a corner of the iPad that heats up after prolonged use. After praising the screen and the speed, MG Siegler seems almost embarrassed complaining about one corner heating up: One other slight downside which I have to assume is related to either the battery or the LTE functionality is that unlike previous iPad models, the new iPad does get noticeably warm in the lower left corner after prolonged use. It's never hot, just warm. But again, I never noticed this on other models.

According to tests conducted by Macworld, the enhanced apps consume up to three times as of the iPad's storage space as un-enhanced apps. MG Siegler worried in his review that the enhanced apps and high-definition movies, which "you'll obviously want" will take up precious iPad storage space. "On the iPad I'm testing out, I have three pages of apps, a few hundred photos, one HD movie, and one music album. It's really not that much stuff, but it takes up over 20 GB of storage. The apps alone are over 10 GB of that," he says.