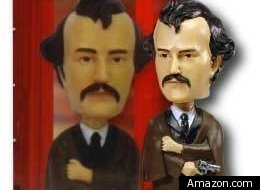 Springfield, Ill.'s Abraham Lincoln Museum and Library this week pulled controversial John Wilkes Booth bobblehead dolls from their gift shop shelves following a similar decision made by the Gettysburg National Military Park's visitor center bookstore.
Booth, of course, was a slavery supporter who assassinated President Abraham Lincoln at Ford's Theatre in Washington in April 1865.
A museum spokesman told the Chicago Tribune that they "agreed with the Gettysburg Military Park's assessment that they were not appropriate for sale. ... It seems to be in bad taste. It makes light of the assassination of President Lincoln."
The State Journal-Register's Abraham Lincoln Observer blog reports that the dolls were pulled from the shelves by the museum shop's close on Tuesday.
The doll, which retailed for $24.99, was a "modest seller" if not a "best seller" and was the shop's only non-book Booth-related product, Blanchette told the Chicago Sun-Times.
The Gettysburg shop moved Saturday to remove the 7-inch-tall dolls, which depict Booth holding a handgun and are made by the Kansas City, Mo.-based manufacturer BobbleHead LLC, after a reporter with The Evening Sun newspaper inquired about their sale. Gettysburg Foundation spokeswoman Dru Anne Neil said the dolls appeared to be causing concern.