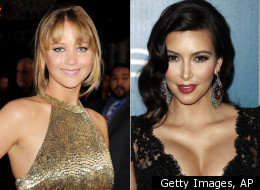 In the post-apocalyptic world where "The Hunger Games" take place, teens fight one another in televised death matches. In our world, Kim Kardashian and Kris Humphries prepare to fight one another in what could be a televised divorce trial.
"Hunger Games" star Jennifer Lawrence can't help but see the parallels.
"I was watching the Kardashian girl getting divorced, and that's a tragedy for anyone," the 21-year-old told Parade magazine Wednesday. "But they're using it for entertainment, and we're watching it. The books hold up a terrible kind of mirror: This is what our society could be like if we became desensitized to trauma and to each other's pain."
Maybe Lawrence's comparison holds true. We watched with interest as Kardashian married Humphries in an estimated $10 million dollar wedding, which was broadcast in a 2-day, 4-hour special on E!. After Kardashian filed for divorce in October 2011, just 72 days after the wedding, fans got an inside peek at the couple's marital problems on reality show "Kourtney and Kim Take New York," which was filmed during the short marriage.
Accusations that Kardashian staged the marriage and subsequent divorce -- from the proposal to the moments of marital doubt that preceded the split -- have plagued the reality star, though she denies them.
Still, we can't help but think that Kim's split and "The Hunger Games" are fights of vastly different proportions.
What do you think: Is Lawrence's comparison a stretch? Tell us in the comments.