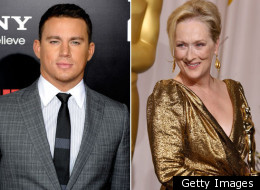 Meryl Streep and Channing Tatum will join Sting and his wife Trudie Styler's biennial Rainforest Foundation concert at Carnegie Hall.
Streep -- now a three time Oscar winner -- previously sang in movies like "Silkwood," "A Prairie Home Companion" and "Mama Mia!"
Tatum, who stars in "21 Jump Street" with Jonah Hill, isn't really known for his voice, and has never sung onscreen. However, the former Abercrombie & Fitch model-turned-stripper-turned-actor does know how to entertain a crowd, if his "Saturday Night Live" debut is any indication.
Joining Sting, Streep and Tatum for the one-night event are Elton John, James Taylor, Rosanne Cash and Jennifer Hudson, among others.
The star-studded concert's theme of the night is "Songs from the Silver Screen." The Rainforest Foundation concert will take place on Tuesday, April 3 at 7 p.m. ET at Carnegie Hall.
Tatum isn't the only one taking Hollywood by storm. Click through the gallery to see the 20 best leading men under 40.
Favorite Romcom Actors Under 40
With "House, M.D.," wrapping up, it's time to get Omar Epps back on the big screen for some much-needed female attention. It's been way too long since "The Wood" and "Love and Basketball."

He's been the super sweet guy next door since "Galaxy Quest," and while he's still just as lovably dorky as his sci-fi geek in that movie (and still rocking the same floppy 'do), Justin Long is racking up hot chicks like Drew Barrymore ("Going the Distance") and Ginnifer Goodwin ("He's Just Not That Into You") onscreen. Who says nice guys finish last?

A guy who's willing to fight seven evil exes for you? And who has the most amazing taste in music? Win and win. And anyone bold enough to rock those gym shorts and that headband in "Juno" is also made of win.

He'll forever have a place in your heart thanks his always-ready-with-a-wisecrack Seth Cohen on "The O.C.," a show he essentially stole from designated lead Benjamin McKenzie (who is totally great on "Southland"). Next, he stars opposite Greta Gerwig in "Damsels in Distress" and features in "Seeking a Friend for the End of the World" with Keira Knightley.

Who didn't walk out of "The Muppets" with a big, goofy grin on their face? From "Forgetting Sarah Marshall" to "I Love You Man" to the upcoming "Five-Year Engagement," Jason Segel has become one of the go-to romcom leading men.

If only your office crush was this cute -- and sweetly dorky and funny and charming. The perpetual bedhead and lopsided smile are all part of John Krasinski's appeal. Renee Zellweger chose him over George Clooney in "Leatherheads" for a reason.

Keri Russell wasn't the only one willing to move across the country for this hottie. (Noel or Ben? No contest!) And can you really blame Rachel McAdams for still being in love with the guy in "The Vow?" As EW put it recently, why isn't this guy a bigger star? Shoulda been Speedman!

Besides starring in the "Can't Buy Me Love" remake, Cannon's living a real-life romcom with wife Mariah Carey. As he told People magazine: "Mariah and I are a romantic comedy with a very happy ending. We're two silly lovebirds that love to have fun and are hopeless romantics."

Some of us discovered Bradley and those big blue eyes back on "Alias," when he was Jennifer Garner's BFF who was hopelessly in love with her. Fast-forward a few years and now he's the object of one-sided infatuations, like Sandra Bullock's scary attentions in "All About Steve." Hard to believe Jessica Biel would dump him in "The A-Team"; he is the sexiest man alive and all.

Who else but James Marsden -- and his heroic jawline -- could make us believe he's a cartoon prince come to life in "Enchated," complete with the tendency to burst into song and rushing off to save damsels in distress? Sorry, Patrick Dempsey, but this is one prince we wouldn't let get away. Recently, Marsden has been good enough for Liz Lemon on "30 Rock," which means he should be good enough for everyone.

Sure, he's super sexy Captain James Kirk now (when he's not kicking ass and wooing Reese Witherspoon in "This Means War'), but remember back in the day when he was romancing Anne Hathaway in "Princess Diaries 2"? Yep, those baby blues made an impression, even in a so-so sequel.

From "Life As We Know It" to "Win a Date With Tad Hamilton!" to "When In Rome," Josh Duhamel is one of the most dependable romcom leading me. What more do you want in a guy? Ability to battle killer robots? Yep, he's got that covered too.

Admit it, when Zac Efron turned back into Matthew Perry in "17 Again," you were sad for his screen wife Leslie Mann. They could have made the age difference work, right? He is kind of a cougar magnet (see: "New Year's Eve"), but name a demo that isn't crushing on Zac.

For a guy who can sing and dance and who organizes a flash mob at Grand Central Station to win back his girl -- like he did in "Friends With Benefits" -- you can forgive him for anything. Even "The Love Guru."

He may not be marriage material as some of his many screen spouses might tell you, but if you don't marry him in Vegas, go on a European honeymoon and the background check is clean, Ashton Kutcher might be worth spending some time with. Who else brings you "Congratulations" balloons after you first sleep together?

As every single review of "The Vow," couldn't help but mention, who on earth could forget they were married to Channing Tatum? Even if you did have amnesia, you'd consider yourself lucky to wake up next to this guy. That he so patiently wooed Rachel McAdams all over again made everyone melt. (Even the accountants at Screen Gems; the thing made bank!)

We loved him long before he stepped into Captain America's boots. It takes Anna Faris an entire movie to realize she's meant to be with Chris in "What's Your Number;" we were way ahead of her on that one.

Ryan Reynolds is one brutally funny, hot package and that's even when he keeps his shirt on. Which, thankfully, isn't all that often. He may be more of an action hero these days, but we'll always love the romantic side of this sarcastic wise-guy.

If you're not in love with Joseph Gordon-Levitt, we don't want to know you. The guy even made cancer funny in "50/50." Why his characters keep getting dumped, we just don't get. Bryce, Zooey, what were you thinking?

Hey girl, we know you love the Gos. Even though he's usually super serious, when he tried his hand at romantic comedy, he won us over completely as a smooth ladies man who was just waiting for the right girl to commit. The "photoshopped abs" don't hurt.