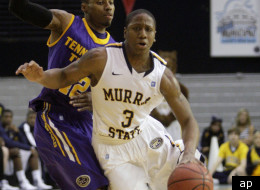 The 2012 NCAA Tournament's field of 64 kicks off with a 6/11 match-up between Murray Stat against Colorado State at 12:15 p.m. on CBS. At 1:40, No. 4 Louisville will take on No. 13 Davidson on CBS. Click HERE for the NCAA Tournament schedule from Thursday through Sunday.
Will there be some early upsets? Or will Louisville and Murray State continue their sensational runs into the next round?
Aside from the live updates below, be sure to follow @RTCWestRegion on Twitter.
Click HERE to follow Kansas State-Southern Mississippi and Wisconsin-Montana.
Click HERE for Printable 2012 NCAA Tournament Bracket and stay tuned for in-depth coverage of March Madness throughout the tournament.