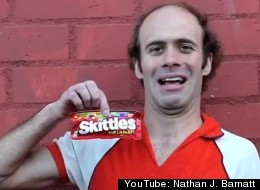 LOS ANGELES -- Police detentions, pratfalls, crazy dance sessions and a general sense of shamelessness have paid off rather well for Nathan J. Barnatt.
The LA-based actor (with the help of his creative partner, director Paul Cummings) has just been selected as Skittles' official spokesman for an ad campaign called "Ride The Rainbow," but Barnatt didn't win the post through auditions or a contest.
Instead, Barnatt and Cummings are the creators of several online characters that have gained tens of thousands of subscribers on YouTube. You've probably seen Barnatt's dancing man shake it across Los Angeles. You may know of "Keith," a video game nerd whose fandom is so strong that Barnatt gets requests to appear in character at ComicCon and PAX East.
But perhaps Barnatt is best known for his character "Trale Lewous," an oddity of a man whose passion for Skittles candy knows no bounds. He started filming "Trale" videos in 2008, which means Barnatt has technically been auditioning for the part of the official Skittles spokesman for years. The company sat up and took notice of Barnatt's character in 2011, and "Ride The Rainbow" marks their first official ad campaign with "Trale."
Barnatt moved to Los Angeles from Boston in 2005 -- or as he remembers it, the year that Upright Citizens Brigade (UCB) opened shop in LA. He immediately began performing at the comedy improv venue, and it's where the struggling actor heard the best advice of his life.
"Forget about auditioning for pilots,' said seasoned UCB comedy vet Ian Roberts to Barnatt. "Make your own."
Barnatt echoed that same advice now, urging young actors to make their own opportunities. "The chances of getting into something are so slim, you should create your own thing and focus on it really well. Dont sit around and wait for other people to do those things."
Cummings also had some advice for young filmmakers struggling to break into Hollywood. "Just go out and do anything, even if it's bad," he said. "There's more to it besides auditions" and applying for jobs, said Cummings.
Now that they've moved into official roles at Skittles, the duo is working with Maker Studio in Culver City, a web content production company and YouTube partner. It's a far cry from the old days, when Cummings was armed with a camera and a tripod and Barnatt spent his time dodging security officers.
The duo hope the partnership will lead to higher quality viral videos for their channel as well as opportunities in mainstream entertainment. Since he's been in LA, Barnatt has won bit parts on commercials and television shows like "Community" and "Happy Endings," but the Skittles spokesman gig is his biggest coup thus far. "This web stuff is really just a hobby that happened to be paying us," Barnatt said half-jokingly. "Hopefully I won't be on YouTube in a year; I'll be in movie theater."
Watch Barnatt's latest video for Skittles below and learn about the chance to win a pinball machine and star in Trale's next online video.
Watch Barnatt and Cumming's video collaborations and see how they went from YouTube oddity to a social media sensation.
You've probably seen this video of a dancing fool shake it all across Los Angeles. He's just one of several characters that Barnatt has created for his YouTube channel. "I love doing things that are embarrassing in public," said Barnatt. Shame is a palpable thing, he explained, "and these videos are satisfying for the viewer because they can really feel it." Cummings, who films and edits the videos, said the segments shot on roads and highways are the worst part of making the films. "The raw audio from those segments are just people screaming at us, yelling 'get out of the road!' " he said. In this video, Barnatt dances to Yelle's "Que Veux-Tu." Barnatt loves listening to the French singer's music, and he made it in the hopes that she would see his video.

It turned out that Yelle did see Barnatt's video -- and loved it. She insisted on appearing in the next one, which was shot in both Los Angeles and Paris. "I was kicked out of the Louvre for the last one in Paris," laughed Barnatt. "Security came and stopped me and said I had to pay hundreds of thousands of dollars for that shot."

Meet Trale Lewous, another one of Barnatt's characters and Skittles' new official spokesman. Barnatt created "Trale" three years ago and saw him as a man who forced himself into commercials. While the duo never thought that Skittles would acknowledge or approve of the videos, Barnatt admired the style of the company's official commercials enough that he felt comfortable using the brand for his videos. "I dont think we would have done Trale for Walmart," he said. This video from 2008 has 1.06 million views to date.

"Throughout the years, I'd hear 'oh, my friend works at Skittles and they saw your video,' " said Barnatt. The Skittles website even started embedding some of the "Trale" commercials on their site. But it wasn't until 2011, when the company held a competition to give away a Skittles vending machine, that "Trale" officially landed on corporate's radar. "Trale" entered the contest with the video above, and with the help of the huge YouTube following Barnatt had amassed over the years, it won.

When the vending machine arrived, Barnatt filmed another video that made Skittles realize they wanted to work with "Trale" in an official capacity.

The company formally reached out to Barnatt by giving him a boom box covered in Skittles. The company's only condition: that the boom box had to make it into another "Trale Lewous" video, but they didn't care when or how. Barnatt thought he could do one better, he said, and decided to merge Trale's personality with his dancing fool character from a different video series. "Skittles saw a good thing that was happening, and instead of suing me, they asked me how we could work together," he said. The video above is what he came up with, and it co-stars fellow comedian Lindsay Ames (watch her hilarious audition sketch!).

"Keith Apicary," another one of Barnatt's characters, is an uber video game nerd. Barnatt has appeared as "Keith" at video game/nerd culture conventions like E3, ComicCon and PAX East. Almost every single time, "Keith" has been kicked out of the events -- E3 three times -- and sometimes even from his own panels. "I've been detained many times for 'Keith,'" shares Barnatt. For the LAX footage in the video above, Barnatt was restrained by airport security and all his luggage was opened and examined. But because "Keith" never carries a wallet or ID (and Barnatt never breaks character), the LAX police eventually just asked him to leave. "It's not malicious in any way," said Barnatt. "He's just an idiot and he's happy." Adult Swim has taken notice, and are in talks with Barnatt to craft a series based on "Keith" and his adventures.