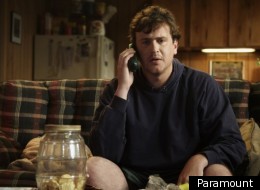 Is Will Ferrell's Spanish really that bad in "Casa de mi Padre?" Has rocker Meat Loaf lost his edge? And where's Eddie Murphy's comedic touch in "A Thousand Words"?
HuffPost Entertainment has rounded up the week's snarkiest reviews just for your enjoyment in the seventh installment of our "Week In Ouch" series.
This week, critics from Entertainment Weekly to The Los Angeles Times and the A.V. Club shaking their heads and asking these very important questions.
Let us know which films, albums and TV shows you think deserved the harsh critiques, and which ones you think critics should ease up on in the comments.
Ah dios mio! TIME's Mary Pols found Will Ferrell's telenovela-mocking Spanish film "Casa de mi Padre" to be unbearably tedious, especially with Ferrell speaking the "careful Spanish of a proud tourist." "Casa de mi Padre" is flawed in that it wouldn't be particularly enticing in any language. About five minutes of its mercifully short 84 minutes would make a nice sketch on Ferrell's Funny or Die. The rest of Casa de mi Padre tends to the tedious, either because its supposed comedy is inert or involves slow motion eruptions of flesh and blood from fake gunshot wounds. It's a limp return to goofy form for Ferrell...

When did Eddie Murphy stop being funny? It's the question on EW critic Owen Gleiberman's mind in his review of "A Thousand Words." He found the movie to be "profoundly tedious" for the following reasons: In theory, A Thousand Words should draw on its star's abilities as a physical comedian, but Murphy, miming his order for a triple latte at Starbucks, comes off like Charlie Chaplin on crystal meth; he's strenuously unfunny to watch. The movie also makes virtually no sense: With a thousand words at his disposal, couldn't Murphy take at least one sentence to explain what's happening to his wife (Kerry Washington)? And why does no one even question why he has suddenly stopped talking? The only answer is that everyone in the film seems to be living in Stupid High-Concept Movieville.

After the success of NBC's star-studded reality competition series "The Voice," the network hopes to have yet another reality hit on its hands with "Fashion Star." Yet, with its glossy product-placement and celebrity judges Jessica Simpson and Nicole Richie, Variety's Geoff Berkshire thinks the fashion competition series is far too niche for the NBC audience. The whole show is a commercial, from slickly executed runway presentations scored with pulsating pop songs to famous faces Jessica Simpson and Nicole Richie shilling for winning designs under the guise of "expert" commentary.

According to The New York Post, money can't by class on Bravo's new reality series, "Shahs of Sunset." The series, which takes place in LA, follows a group of wealthy young Persians as they go around southern California partying, fighting and spending a lot of money. Linda Stasi from The Post was not impressed. The show, yet another " reality" show starring a bunch of rich people who supposedly spend all their time together, partying, fake arguing and creating drama out of nothing, is so dull, it makes "Russian Dolls" look exciting.

Jason Segel and his manchild ways in the Duplass brothers' new dark comedy "Jeff, Who Lives At Home" really rubbed Time Out New York writer Keith Uhlich the wrong way. Maybe it was the overuse of the "dimwitted protagonist?" Or was it the "Duplasses' trademark Unmotivated Zoom-o-Vision?" Regardless, according to Uhlich, for a film that searches for meaning, it ironically finds none. As is, this semi-improvised feature comes off as a willfully vague exercise that, like its dimwit protagonist, presumes that profundity and enlightenment will emerge from the morass eventually. Er, maybe--or maybe not. Kinda like Signs; only much, much worse.

Has Meat Loaf lost his rocker edge? According to A.V. Club critic Noel Murray, Meat Loaf just hasn't been the same since Bat Out Of Hell, and his new album "Hell In A Handbasket" is no exception. But too much of Hell In A Handbasket is just generic songwriter-mill fodder, over-cranked and over-sung. The heart is there; with Meat Loaf, the heart is always there. But the skin is synthetic, and not in any kind of super-cool or ironic way. This album is neither fun enough nor weird enough to demand the kind of obsessive replaying of Meat Loaf's best. Swap in Celine Dion, Garth Brooks, or even Kirk Franklin on a lot of these tracks, and the difference wouldn't be appreciable.

Sometimes, it's better to just get to the point, and when it comes to ABC's new drama "Missing," starring Ashley Judd, Slant magazine's Aaron Riccio thinks that this is one of those times. If Becca were portrayed by a more capable actress (Maria Bello, for instance), this hybrid between a cold and calculating agent and a fiery and illogical mother might feel more believable; Judd rarely seems capable of more than three or four expressions, and she plays them directly to the camera like the attention-starved and overly doting mother the producers make her out to be before revealing that both she and her murdered husband (who, given that he's played by Sean Bean, is almost certainly not dead) were spies.

USA says that characters are welcome on their network, but according to HuffPost TV's Mo Ryan, its drama "Fairly Legal" doesn't have any characters worth welcoming. Sarah Shahi, though gorgeous, is unfortunately dull in the series' fumbling second season. So it's not as if I have the world's highest expectations for "Fairly Legal," but it just doesn't deliver on a character level, and allegedly that is something that matters to the "Characters Welcome" network.

Whatever you do, warns Randall Roberts of The Los Angeles Times, don't play "Hang It Up" first when you listen to The Ting Tings new album "Sounds from Nowheresville." Just don't. Can a single song on a 10-track record ruin an entire album? Can one three-minute tune be so ill-conceived that its terribleness eclipses what's good in the other nine songs? Yes.