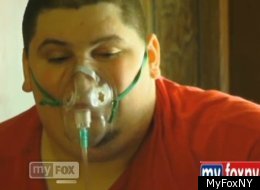 The reason a New Haven, Connecticut man faces eviction has nothing to do with payments.
Instead, 25-year-old Joey Dibenedetto, who weighs around 600 pounds, says that he and his family are being evicted from their apartment due to his size, MyFoxNY.com reports -- even though they claim they've kept current on their rent.
The landlord disagrees. He says the eviction has nothing to do with Dibenedetto's weight; instead, he claims that while they pay their rent, the family has been violating the terms of their lease by having too many people and pets in the apartment.
Since the story aired, the public response has been varied. Some have offered to help the Dibenedettos, including medical weight loss centers, while others have been less charitable, WTNH reports.
While the true reason behind the Dibenedettos' eviction may still be unclear, recent stories may offer the family some hope. Recently, another Connecticut man chose not to follow through with the eviction of his 98-year-old mother. He dropped the push to evict his mother -- which he says was only an effort to move her in with him so she could have better access to medical care -- after a judge ruled her competent.
In addition, a 78-year-old civil rights activist Helen Bailey was saved from eviction last month thanks to the efforts of a campaign by Occupy Nashville and the Black Leadership Forum. Her lender JPMorgan had threatened foreclosure during a promotion honoring Martin Luther King Jr. But after the issue drew national attention, JPMorgan said Bailey will be allowed to stay in her home for the rest of her life.
Here are some other crazy eviction stories from 2011:
Foreclosure Fails(CLONED)
Shock Baitch and his wife Lisa of Connecticut were threatened with foreclosure by Bank of America after never missing a payment. BofA mistakenly told credit agencies they were seeking a loan modification. "Now I am literally and financially paying for it," Baitch told CTWatchdog.com.

Facing foreclosure, Perry Laspina of Jacksonville, Florida ended up with a home practically for free after his mortgage lender was shut down by parent company Wells Fargo, AOL Real Estate reports. Laspina got the home "because of the significant decreased value of the property," a bank spokesman said.

In Boynton Beach, Florida, Bank of America filed a foreclosure lawsuit against the owner of a building that houses one of its own branches, South Florida Business Journal reports.

A Massachusetts man was told he'd face foreclosure unless he paid an outstanding mortgage payment worth $0.00. "I'm going to write a check to them for zero dollars and have it clear? I couldn't help but laugh," he joked with local News 22 WWLP.

Chris Boudreau of Brooksville, Florida told local news that his house was ransacked by his mortgage company, 21st Mortgage Corporation, who he says even shredded his wife's wedding dress. "When she saw what happened...she was crying her eyes out," he told WTSP 10 News.

A senior couple in Pasco County, Florida faced foreclosure not for missing payments, but for making one too early. According to a Bank of America representative, they made themselves ineligible for a mortgage modification under the Home Affordable Modification Program when they did not make their payment in the "month in which it [was] due."

Property developer Kent Swig and his soon-to-be ex-wife Elizabeth faced foreclosure from their apartment at 740 Park Avenue, a New York City address often cited as "the world's richest apartment building."

Brian and Khanklink Pyron of Houston, Texas were threatened with foreclosure despite keeping current on their payments due to an untransferred title. "We did everything we were supposed to do," Brian Pyron told MyFoxHouston.

Brad Gana, of Seabrook, Texas was threatened with foreclosure by Bank of America even though his house had been completely destroyed years earlier in Hurricane Ike. "Bank of America is ruthless in their incompetency," he told Houston 2 News.

Utah's Shantell Curtis and her family were threatened with foreclosure by Bank of America on a home they had already sold years prior. On top of that, the whole episode concerned the matter of just a $1 coding error.

George Knapp, chief investigative reporter for Las Vegas CBS affiliate KLAS, found he was a victim of the very brand of foreclosure fraud he was investigating for a news report. Him being the reporter, the episode put him in a "very weird spot," he told the Poynter Insitute.