Neil DeGrasse Tyson: 'We Don't Know What's Driving 96% Of The Universe' (VIDEO)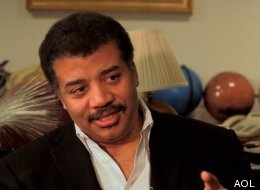 Neil deGrasse Tyson is one of the most celebrated science communicators and popularizers alive today. He is the Frederick P. Rose Director of the Hayden Planetarium and hosts NOVA ScienceNOW on PBS. He has also written several popular texts about astronomy, including his most recent book, Space Chronicles: Facing the Ultimate Frontier.
I had an opportunity to sit down with Neil in his office in the Department of Astrophysics at the American Museum of Natural History in New York City. From intelligent alien life to our stellar origins, how to think outside of the three-dimensional box to what baffles one of the great thinkers of our time, this was a conversation I won't soon forget. I hope you enjoy it as much as I did. I also hope you'll take the time to join the conversation by leaving a comment below. Talk nerdy to me!
CLICK HERE FOR FULL TRANSCRIPT
See all Talk Nerdy to Me posts: www.huffingtonpost.com/news/talk-nerdy-to-me
Like Cara Santa Maria on Facebook: www.facebook.com/pages/Cara-Santa-Maria
Follow Cara Santa Maria on Twitter: www.twitter.com/CaraSantaMaria