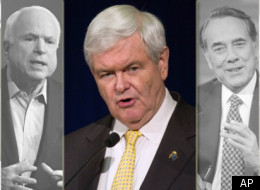 How much weight should the personal lives of presidential aspirants carry in the voting booth? The question of whether or not candidates' private lives is fair game -- or even relevant -- to campaign coverage has long been debated by pundits, voters and even the candidates themselves.
This campaign season, no GOP presidential hopeful has come under more scrutiny for his marital history than Newt Gingrich. For almost three decades, the thrice-married former speaker of the House has fielded questions about his split from first wife, Jackie Battley -- namely, that he'd served her divorce papers while she was in the hospital undergoing cancer treatment (a story that Gingrich and his daughters have vigorously denied.)
But in January, Gingrich was forced to respond to another personal allegation when second wife Marianne Gingrich appeared on ABC News and accused him of asking her for an open marriage in 1999 in order to be with Callista Bisek -- the woman who is now his third wife. On January 19, the same night the interview was aired, moderator John King opened CNN's GOP debate in South Carolina by asking Gingrich if he wanted to respond to the claims. Gingrich lashed out at the "destructive, vicious, negative nature" of much of the news media.
"Every person in here knows personal pain. Every person in here has had someone close to them go through painful things," Gingrich said. "To take an ex-wife and make it two days before the primary, a significant question in a presidential campaign, is as close to despicable as anything I can imagine."
But what was presumed to be an issue for voters in South Carolina ended up having little effect. In the run-up to the vote, the Christian Scientist Monitor reported that Gingrich's lead had actually increased in the wake of his ex-wife's accusations, likely due to skepticism over Marianne Gingrich's claims. At the time, Public Policy Polling data on South Carolina voters showed that only 31 percent of voters said they thought Marianne Gingrich's accusations were true, while 35 percent thought they were false and 34 percent were unsure. Fifty-one percent of voters had "no concerns" about the interview's revelations. Their votes told as much; Gingrich won the South Carolina primary with 40 percent of the vote.
But voters haven't always been so forgiving. From FDR's long-hidden affair with a younger woman to the questionable chronology of John McCain's divorce, click through the slideshow to see how marital infidelities and divorces have played out among voters of yesteryear.
It's been well-documented that 32nd president Franklin Delano Roosevelt had an affair Lucy Mercer, the younger woman who served as wife Eleanor's personal secretary beginning in 1913. According to the New York Times, the affair likely started in 1916 and was discovered by Eleanor in September 1918, when she stumbled upon a batch of incriminating letters while unpacking her husband's bag. Though Eleanor offered Franklin a divorce, his strong-willed mother, Sara Delano, urged him against it. It wasn't just her; in Russell Freedman's 1992 biography of FDR, the president's son Elliot is quoted as saying that political adviser Louis Howe tried to convince Roosevelt "that he had no political future if he did this." In the end, Franklin and Eleanor stayed married and the affair stayed under wraps during the election and after. As the New York Times writes, Roosevelt was one of the many politicians of yesteryear, who "with the help of an obliging press and retinues of discreet enablers," kept their private life private.

(Stevenson, left) Adlai Stevenson received the Democratic Party's nomination for president in 1952 and 1956, going head to head and losing both times to Republican -- and married man -- Dwight D. Eisenhower. Stevenson and wife Ellen Borden divorced in 1949, after 21 years of reportedly unhappy marriage. During the election, the candidate's single status starkly contrasted with the family-man image Eisenhower had cultivated. By 1956, Stevenson's camp had caught on, casting their candidate as similarly dedicated to his family in a number of campaign ads featuring his son and daughter-in-law. Still, the divorce loomed large in voters' minds. A September 1956 article that ran in The Toledo Blade sized up how Stevenson's marital past was perceived in the rural Midwest during the election. As one voter told the paper, "If a man can't run his family he has no business trying to run the country." Tellingly, an Illinois housewife quoted in the article had this to offer in way of support for Eisenhower: "I like Ike's family and his family likes him."

It wasn't Nelson Rockefeller's 1962 divorce from his wife of 31 years, Mary Todhunter Clark, that did him in when the New York governor ran for the Republican nomination in 1964. What likely did? His decision to marry Margaretta "Happy" Murphy, a woman 18 years his junior, just one month after she divorced her husband and surrendered custody of their four children. Long presumed to be the frontrunner for the Republican nomination over opponent Barry Goldwater, Rockefeller found himself dodging criticism from pundits and other politicians. Among his fiercest critics was George W. Bush's grandfather, Prescott Bush. In "Before the Storm: Barry Goldwater and the Unmaking of the American Consensus," Rick Perlstein writes of how Bush spoke out at a prep school graduation against Rockefeller's actions. "Have we come to the point in our life as a nation where the governor of a great state can desert a good wife, mother of his grown children, divorce her, then persuade a young mother of youngsters to abandon her husband and their four children and marry the governor?" On May 26, three days after Rockefeller returned from his honeymoon, Gallup issued some telling statistics. Previously, 43 percent of Republicans had been in favor of Rockefeller and 26 percent for Goldwater. Now, it was Goldwater in the lead -- 35 to 30 percent. Goldwater would go on to win the GOP nomination.

Ronald Reagan was the first and only elected president to have been divorced. Reagan's nine-year marriage to actress Jane Wyman ended in May 1948, when Wyman filed for divorce, claiming that Reagan had become "very political" and that the interest wasn't shared. As a political candidate in later years, Reagan, who was then remarried to Nancy, often "deflected discussion of the [divorce] by insisting that he was not really divorced, since Wyman divorced him," writes biographer Michael Schaller. "While this might appear to be a difference without distinction, Reagan often employed this type of passive language to distance himself from the uncomfortable personal events that either contradicted his embrace of what he called 'traditional family values' or called into question his honesty." But according to Nicholas H. Wolfinger, Reagan's downplaying of the divorce hardly mattered by 1980, when he ran as the Republican's presidential candidate. "Twenty-seven years [after Adlai Stevenson's loss], Ronald Reagan's divorce was the nonevent of his presidential campaign," Wolfinger writes in his 2005 book, "Understanding Divorce."

In the run-up to the 1996 presidential election, Vanity Fair writer Gail Sheehy wrote a profile of Republican nominee Bob Dole that suggested that the "family values" candidate had been romantically involved with another woman while married to his first wife, Phyllis Holden. Both the Washington Post and Time magazine investigated the story, eventually finding and interviewing the woman, trade publication editor Meredith Roberts, according to the American Journalism Review. Although both sources confirmed the story independently, each publication passed on publishing it; the Washington Post's executive editor Leonard Downie Jr. ruled that the 30-year-old affair "didn't pass the relevance test." In the end, the National Enquirer ran the story, to apparently little fanfare. As the Post would later write, "the accusations received either scant coverage or no coverage at all in most mainstream outlets, so they likely had little effect on the outcome of the election." In hindsight, the paper called the affair "the least public feeding frenzy of the 1996 presidential campaign."

In June 2008, British publication The Daily Mail alleged that, in the late '70s, Republican presidential nominee John McCain had pursued a relationship with his current wife, Cindy, while still married and living with wife of 14 years, Carol McCain. It wasn't the first time the press had called attention to the circumstances surrounding McCain's second marriage. In 2000, when McCain was running against George W. Bush for the GOP nomination, New York Times columnist Nicholas Kristof wrote this of McCain's divorce and subsequent marriage: "For a candidate running on character and biography, it is also an awkward time to remember: Mr. McCain abandoned his wife, who had reared their three children while he was in Vietnamese prisons, and he then began his political career with the resources of his new wife's family." Still, in 2008, in spite of a Los Angeles Times piece that called into question the chronology of McCain's two marriages, the big divorce story belonged to Rudy Guiliani, the thrice-married former mayor of New York City. As Southern Baptist Convention leader Richard Land told the Associated Press in March 2007, McCain's divorce drama was "a molehill compared to Giuliani's mountain. When you're a war hero, you have less to prove on the character front."