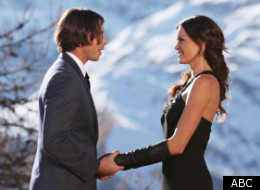 Fashionistas everywhere get style inspiration from their TVs, and this week offered a lot of looks worth chewing on ... and a few that should just be spit out immediately.
The "Shahs of Sunset" really went all out with their looks, "Pretty Little Liars" had their usual daring missteps (even though someone made our "best") and poor Sue Heck (Eder Sher) got piled on, headgear and all, on "The Middle." But there were plenty of haute hits, too -- Reagan (Christina Applegate) nailed working mom chic on "Up All Night" and we fell in love with the street style of someone with a killer "Voice."
But who wins worst of the week? Let's just say if you have to take off elbow-length leather gloves to have an engagement ring slipped on your finger, you're doing something horribly wrong.
Click through the gallery below to see all of HuffPost TV's best and worst dressed TV characters of the week.
The Best & Worst TV Fashion, March 9-15
So ... this happened. Bravo's newest stars are all incredibly label-conscious. Except one. Asa is the artist (and outcast) of the bunch, who had no problem knocking someone else's look in the show's premiere episode -- their horror at being accused of shopping at H&M was truly hilarious -- but then she wore this. H&M doesn't look so bad now, does it?

Good things come in small packages and, this week, petite 17-year-old Hollie was a standout on "Idol," both vocally and stylistically. She tackled Celine Dion's "The Power of Love" and managed to bring the bling in this gorgeous gown. Her diva inspiration would be proud.

All capes aside, "Bachelor" ladies fashion this season was pretty hit or miss. A good rule of thumb: If you're going to be doing a lot of hand-holding on TV, it'd be nice to ... well, see your actual thumbs. These elbow-length black leather gloves were ugly, but even more bizarre since Courtney knew there was at least a 50/50 chance she'd be proposed to! Lose the arm accessories if there's diamond jewelry in your future, honey.

Reagan always represents for the working moms of the world, but this week her look was perfectly chic without being too obviously "professional." Basically, this motorcycle jacket is to-die-for in a grayish taupe -- a neutral piece that still makes a statement and easily goes from work to weekend. We love.

We get it, "The Middle" -- growing up isn't always pretty. But this? It takes a lot of work to make funny girl Eden Sher look so bad, and when you start having to pile on headgear on top of an already questionable outfit, it might be more trouble than laughs.

Jamar's voice was certainly good enough to get him through the battle rounds, but it's his personal style that we can't get enough of. From the earrings and the ink to his bright red blazer (he is Team Red Zone, after all), he's got the whole package to be the star of the season.

The "Liars" make our list again, but not all of their looks fell flat this week. Sure, Spencer's knee-highs are a little ridiculous, and we probably shouldn't even start on Aria's sheer skirt (seriously, who hates her?), but Hanna's look is chic and grown-up without trying too hard. Love the patterned snakeskin blazer over her blue pop-of-color top.

As a children's social worker, Clea doesn't need to wear anything sexy or fussy, but Gugu Mbatha-Raw still brings the fabulous to this simple grey t-shirt with the addition of a printed silk scarf.