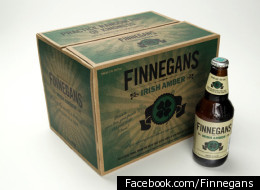 This St. Patrick's Day, when you twist open a bottle -- be it an Irish brew or not -- choose a beer that brings some good luck to someone less fortunate.
Pick your flavor and pick your cause -- we've featured some beers that give proceeds to issues ranging from veteran affairs to hunger.
Check out 5 beers that give back!
The Hook and Ladder Brewing Company not only serves up three types of beers, but it also operates a Hook and Ladder Firefighter Burn Foundation, Inc. The organization donates $1 for every keg sold and $.125 for every case sold. Donations are made to several organizations across the country. To find retailer near you that sells Hook and Ladder beer, click here.

Finnegan's, a Minneapolis, Minn., nonprofit founded in 2000, sells beers to fight hunger. The organization gives 100 percent of its profits to alleviating hunger in the community where it sold, partnering with local nonprofits to "turn beer into food." Although its only sold in a few states now, keep an eye out for this charitable brew, and find out if its sold near you, here.

For every bottle of beer sold by 50 Back, 50 percent of the profit goes directly to an organization that directly supports and enriches the lives of veterans and their families around the country. To find out if 50 Back is sold near you, click here.

The SOS Abita beer from the Abita brewery stands for "save our shore", and was created immediately following the oil spill in the Gulf of Mexico in 2010. It dedicated 100 percent of the profits to different organizations cleaning up after the spill, and has so far donated $300,000. To find a store near you that sells Abita beers, click here.

16 Mile Brewery began as a way to pay tribute to a rich Delaware history, and each year it embarks on a new charitable endeavor. In 2012, the company created a Responders Ale, and for each case of Responders Ale sold, the company will donate $3 to the National Fallen Firefighters Foundation, and for each keg, the company will donate $5. To find out if 16 Mile Brewery beers are sold near you, click here.