St. Paddy's Day Poll: What Would You Do If You Found A Pot Of Gold?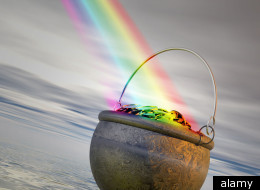 Happy St. Paddy's Day! In honor of today's celebration of Ireland's patron saint -- and the best day of the year to dress your pet up as a Leprechaun -- we have an important question for you: In the event that you found a real-life magical rainbow and followed it to a pot of gold, how would you spend the money?
Sound off in the poll below or tweet us your answers @huffpostteen!