This much is clear: U.S. customers love their iPhones.
A study released Thursday from J.D. Power and Associates ranks Apple's iPhone highest in U.S. customer satisfaction, beating out other popular handest makers like HTC and Samsung.
This is the seventh time in a row that Apple has won top honors in the J.D. Power and Associates survey.
Apple received a score of 839 points out of a possible 1,000, while smartphones from HTC and Samsung trailed with 798 and 769 points, respectively.
The study, which surveyed 7,080 people who own smartphones, was conducted between July and December of last year, John Tews, a spokesman for J.D. Power and Associates, told The Huffington Post.
Apple is also leading the pack in terms of smartphone market share. According to January data from Comscore provided to The Huffington Post, Apple controls 29.5 percent of the U.S. smartphone market. Research In Motion (RIM), the makers of Blackberry devices, controls 15.2 percent, while HTC and Samsung control 14.5 percent and 13.8 percent, respectively.
The study also revealed something that may not be surprising: Smartphone users are not happy with the battery lives of their devices, and 4G users are the most displeased of the lot.
Approximately 25 percent of 4G-enabled smartphone owners are highly satisfied with their battery (ratings of 10 on a 10-point scale) and say they "definitely will" repurchase a device from the same manufacturer. In comparison, among owners who are less satisfied with their battery (ratings of 7-9 on a 10-point scale), only 13 percent say the same.
LOOK: J.D. Power And Associates 2012 Wireless Smartphone Satisfaction Survey: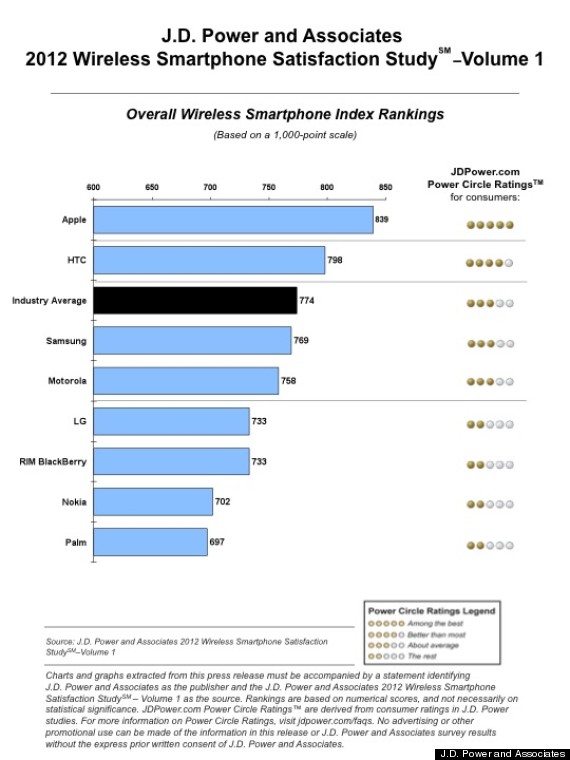 SUBSCRIBE AND FOLLOW
Get top stories and blog posts emailed to me each day. Newsletters may offer personalized content or advertisements.
Learn more