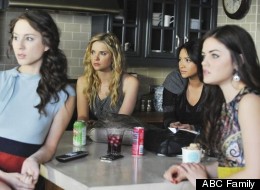 On the Season 2 finale of ABC Family's hit series "Pretty Little Liars" (Mon., March 19 at 8 p.m. ET) viewers will finally find out the answer to the biggest question of all: Who is A?
The reveal has been two years coming and though the extortionist texter -- with a penchant for saying "bitches" -- clearly has staked his/her/their claim on the first letter of the alphabet, what about the other 25?
From Byron to Caleb and all the way through Z, catch up on all things "Pretty Little Liars" in the slideshow below before the finale opens up a whole new host of questions for fans to think about until the third season of "Pretty Little Liars" kicks off in June.
Since "Pretty Little Liars" premiered in 2010, the series' four leading, lying ladies have been tormented and blackmailed via text by an unknown sender, who goes simply by "A." In the Season 2 finale, "A" -- who has a penchant for puns and calling the girls "bitches" -- will be revealed.

Our first little liar, Aria Montgomery (Lucy Hale), is the token alternative girl. She loves literature, theater and incredibly heinous outfits (more on that later). But the one who's always there to crush Aria's dreams -- and hot-for-teacher romance -- is her dad, Bryon (Chad Lowe). Mind you, he's a college professor who nearly broke up their family after sleeping with a student. Perhaps "Hypocrite" is his middle name.

What started off as some witty Justin Bieber-based banter with another little liar (Hanna) in detention, led to one of the most adored relationships on the show. Caleb (Tyler Blackburn) is a hacker who was once spying on the liars, but the former bad boy has since become Hanna's knight in shining armor, who uses his hacking skills for good.

Alison DiLaurentis (Sasha Pieterse) was the bitchy queen bee of Rosewood. She's so mean, in fact, a fire she set caused another Rosewood resident, Jenna, to go blind. After a slumber party one night, Ali went missing and in the year that followed, her former minions (Aria, Hanna, Spencer and Emily) received texts signed by "A," which they assume to be runaway Ali. But then, her body turns up and it's clear things are more complex than the liars imagined. It's later revealed through flashbacks that Ali had been secretly dating Ian and had been receiving texts from "A" before she was buried alive. She also has an older brother named Jason who was wasted the night Ali went missing. He later returns to Rosewood and eventually, it comes out that his mother had an affair with Spencer's father, making him her half-brother. Obviously, D could easily be for Drama, too.

Emily Fields (Shay Mitchell) is the Sporty Spice of the show's foursome who has struggled with her sexual orientation -- she used to hook up with Ali. But her strict upbringing makes it difficult for Emily to come to terms with being gay. Eventually, and partially thanks to her first girlfriend Maya -- who moved into Ali's old house, of course -- she comes out. She also wound up having some complex flings with fellow swim team member Paige and Samara, who she meets through a gay youth organization to help Paige come out, and then Maya again. No wonder she had an ulcer (seriously).

Although her traditional mom and military father initially struggled with their only daughter being gay, they eventually come to accept Emily for who she is. After her mother moves to Texas for a while to be with her father (who is stationed at Fort Hood), Emily goes to live with Hanna. But now, Emily's dad is headed back to Afghanistan. Once again, poor Emily.

This Rosewood student-turned-police officer has come full circle. First, Garrett (Yani Gellman) was investigating Ali's murder and seemed to be helping the liars. Then, we found out he was secretly dating Jenna and helping her spy on the liars; he's also a former member of the N.A.T club (which is Latin for "Nos Animadvertus Totus," meaning "We See All"), along with Jason and Ian. Later, Garrett and Jenna split and Garrett winds up dating Melissa, Spencer's sister who's pregnant with his late friend Ian's baby. And when we last saw him, he was being arrested for Ali's murder after Jenna, who can now see, seemingly ratted him out to the cops.

Hanna Marin (Ashley Benson), formerly known as "Hefty Hanna," earned queen bee status in the wake of Ali's disappearance and death ... and some struggles with bulimia. She's not the brightest crayon in the box, but she's quick with the one-liners. Mona, who was once the the prime target of Ali's cruelest words, is Hanna's only minion; but she does have Emily, Spencer and Aria as BFFs. Hanna has a volatile relationship with her bank-thief of a mother, but an excellent one with her boyfriend Caleb. As for her father? Wait for the "K" slide.

Ian (Ryan Merriman) was the third member of the N.A.T. club, who secretly dated Ali while not-secretly dating Spencer's sister Melissa. Plus, he also shared a kiss with Spencer. Though Melissa and Ian's high school relationship came to an end, the two later rekindled their romance, eloped and moved into the barn on the Hastings' property while their Philly apartment was being renovated. When Spencer confronts her crush-turned-brother-in-law about his passion for video taping and Ali's murder, he gets angry and tries to kill her, but "A" intervenes and it's Ian who winds up dead.

Rosewood's new girl Jenna (Tammin Sursok), who had the potential to rival Ali as the resident queen of the cliques, winds up blind after one of Ali's pranks -- intended for Jenna's step-brother Toby -- goes awry. And she's pissed, rightfully so. She also forced Toby to have a sexual relationship with her by threatening to lie to their parents and say he was forcing himself on her. (So twisted.) Despite the fact that she can't see, the girls -- and many viewers -- think Jenna is "A" and there have been rumors that she's faking her blindness. She later has surgery on her eyes, which she claims didn't work, but in the most recent episode we learned that Jenna definitely has the ability to see again ... we just don't know how long she's been able to.

Kate (Natalie Hall) is the epitome of the evil step-sister. Hanna's dad, Tom, left her and her mom Ashley before the series kicked off and only returned to her life with more drama: a new future wife, Isabel, and daughter, Kate. The blonde tween is all things W.A.S.P. -- bragging to Hanna about her sailing and equestrian skills all while maintaining a pleasant facade. When she accidentally overhears some of Hanna's honest (to say the least) thoughts about her new step-family, Kate says she's put it in her past. However, at the rehearsal dinner, she gets Hanna drunk leading her to get sick on Isabel's wedding gown and her father to be disappointed in her. After he and Kate's mom make it official, Kate heads to Rosewood High and things get even uglier (see letter "X").

The only person who loves Hanna as much as Caleb is Rosewood's yearbook committee nerd Lucas (Brendan Robinson). Ali used to viciously torment him, calling him "Hermie," short for hermaphrodite. He fessed up to trashing Ali's memorial, creepily laid a kiss on a sleeping Hanna and gambled away his and Caleb's money (after he offered him a place to live). Though it was looking like he was "A" (after an incredibly frightening row boat ride gone awry), money seems to be the most of Lucas' problems.

Former nerd Mona (Janel Parrish) came to rule Rosewood in the wake of Ali's death. She dated Noel, who then moved on to Jenna, but as a couple, the two looked quite suspect. Mona is not a fan of Caleb and it took her two seasons to warm up to Spencer, Aria and Emily. But since Mona is a victim of "A" as well, they have a lot in common.

Noel Kahn (Brant Daugherty) really gets around. Besides throwing raging Halloween parties, the stereotypical high school jock has dated Aria and Mona, and now he's linked to Spencer. But bad boy Noel has been suspicious for some time ... not only does it look like he has "A" connections, but he also threatened to blackmail Mr. Fitz when he found out about him and Aria.

Another corrupt member of the Rosewood Police Force, Officer Wilden (Bryce Johnson) has been investigating Ali's murder, interrogating the girls and sleeping with Hanna's mom. He's seemed determined to send the girls to jail and almost gets his wish when they're found with Ali's murder weapon (a shovel). But thanks to Spencer's mom, they only wound up serving community service. Still, those orange jumpsuits certainly were substantial punishment.

This was Spencer's gift to Toby so that he could be independent and start his own business. The generous purchase led to their first "I love you's" and ever since, it's served as their trusty forbidden love make-out locale.

From fish dresses to Victorian Era ensembles, sometimes these high schoolers look like serious fashion victims. We get that Aria is artistic and Spencer is straight-laced, but the period attire is just not necessary.

All of this drama takes place in the fictional town of Rosewood, PA, where there appears to be one restaurant and one coffee shop (looking at you, Lucky Leon's Cupcakes). This makes for some very convenient (yet, of course, very inconvenient) run-ins and, we imagine, some very tiresome outings.

Spencer (Troian Bellisario) is one of the most intense teenagers we've ever seen on TV. She's insanely devoted to everything she does, whether it's field hockey, studying or tracking down "A." The youngest and the most over-achieving in her country club-going family has always felt second best to her sister, Melissa (the one who is pregnant with dead Ian's baby and dating Garrett). Her parents are never home, her house is always dark and she rarely smiles. But really, who could blame her?

Long believed to be behind Ali's death, poor Toby (Keegan Allen) has really been a victim. From being blackmailed into sleeping with his younger step-sister, Jenna, to being arrested as a victim in Ali's murder, life has been tough for big-lipped Toby. He gets close with Emily and is very supportive of her coming out, but eventually winds up dating Spencer. Sadly for fans of the surprising couple, they split when Wren (see "W") gets in the way.

Before Caleb and Hanna became the love of each others' lives, hacker extraordinaire Caleb was using Jenna's bedazzled owl USB to crack the code on the little liars. But the flash drive -- which contained incriminating video footage of Ian with Ali -- wound up being a lot more than a sparkly pendant. Spencer blackmailed him into coming to meet her in the Season 1 finale, which ultimately led to his death.

Complicating matters even further, towards the end of Season 2 it was revealed that Ali had been sneaking off -- in a brunette wig and red trench coat -- to Brookhaven. She'd hunt for "A" and meet up with a boy named Duncan who would fly her in his private plane. She'd call herself Vivian Darkbloom, but basically it looked like she was living as Carmen Sandiego. Ali chose her alter-ego's name from the book "Lolita" by Vladimir Nabokov. Perhaps she's more studious than we thought ...

After she officially becomes Hanna's step-sister (until death do their parents part), Kate shows up at Rosewood High and Spencer recognizes her from a camp they used to go to together, where Kate was apparently not quite so pretty. Spencer tells Kate if she does anything to Hanna, she will send an embarrassing old photo of her to the whole school. Preemptively, Kate, we later learn, steals Hanna's phone, photoshops a topless photo of herself, sends it to the school and blames Hanna. Though no one believes Hanna's innocence, the truth eventually comes out and we haven't seen Kate since.

Continuing her penchant for making out with her sister's boyfriends, Spencer wound up kissing Melissa's fiance, med student Wren (Julian Morris) and ending their engagement. He oddly returns to Rosewood in the wake of Ian's death and gets a job at the hospital. He and Spencer somewhat rekindle their romance, causing Toby and Spencer to call things off. Recently, Wren asked her if she would like to forget about anything that has ever happened between them. Of course, she wouldn't. Long live Wrencer!

Whether it's Toby or Jason, it seems there is always yard work to be done in Rosewood and thus, there are always shirts to be taken off, luckily for swooning fans. But, because this is "Pretty Little Liars," there is always subtext. After Spencer's dad unintentionally causes Toby to lose his job, he hires Toby to work in their backyard. But the good deed turns scary for all parties involved when Toby finds a field hockey stick buried behind the Hastings house.

Okay, so his name may not start with the letter Z, but there's one in both Ezra and Fitz, so it counts. Though Aria met Ezra (Ian Harding) before school even started, turned out he was her new high school English teacher. Still, the couple, bonded by burgers and a love of literature, can't stop seeing each other. Though much has been discussed of their scandalous relationship -- which has since been made public, then private, then public again -- one thing can not be denied: our appreciation for the Z's.