San Francisco Airport Wetlands To Be Protected By SFPD (PHOTOS)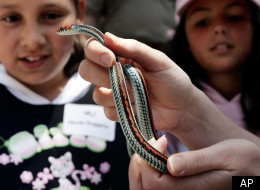 In an effort to protect two species of threatened and endangered animals, the San Francisco Police Department will begin patrolling the outer property line of the San Francisco International Airport, especially along the wetlands that border San Francisco's Bayview District. The airport hopes the new patrol will help enforce a strict no-trespassing policy in the fragile wetlands.
"We've always had fences along the property," explained SFO spokesman Mike McCarron to The Huffington Post. "But nearby residents kept jumping them or cutting holes in them to get inside."
(SCROLL DOWN FOR PHOTOS)
According to McCarron, trespassers threaten the species who live in the wetlands, including the endangered San Francisco Garter Snake and the threatened California Red-Legged Frog. Now, SFPD officers will regularly patrol the fences and prosecute any offenders. Bayview residents received letters explaining the new policy.
SFO, which sits on 32-acres of filled-in wetlands, made a commitment to improve 558 acres of wetlands and tidal marshes to compensate for the land used for airport activities. Efforts have included planting thousands of trees, building canals and using goats instead of machines for vegetation management to minimize impact.
"This is part of our ongoing process to protect that commitment," said McCarron.
SFO's is just the latest effort to protect the San Francisco Garter Snake and the Red-Legged Frog. In December, Pacifica's Sharp Park golf course was nearly turned over to the National Parks Service, in part due to protection efforts for the two species, but the move was vetoed.
For more of the Bay Area's precious threatened and endangered animals, check out our slideshow below:
CORRECTION: An earlier version of this article stated that the Sharp Park golf course was turned over to the National Parks Service. However, this plan was vetoed.