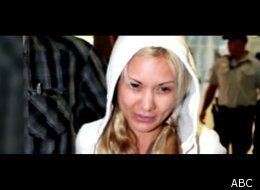 A successful bikini model also accused of international drug dealing was caught in Australia last week.
Simone Farrow, who once posed for Ed Hardy's swimsuit line and was featured in Penthouse magazine, was on the run after skipping out on $150,000 bail that was paid in February by two friends.
The 37-year-old blonde's troubles began in 2009 in Hollywood where Drug Enforcement Administration officials raided her apartment, claiming to find evidence that she masterminded an international crystal meth ring
Australian cops busted the fugitive model again last Wednesday. Farrow's hideout on the Australia's Gold Coast was described as a "cheap hotel" by the Sunday Telegraph.
CHECK OUT FACEBOOK PHOTOS OF SIMONE FARROW AKA SIMONE STARR (Story continues below)
Simone Farrow aka Simone Starr
Simone Farrow, who often used the name Simone Starr in her modeling career, allegedly ran a methamphetamine ring from her Hollywood apartment.

Farrow, 37, allegedly distributed crystal meth by hiding it in bath salts packages sent in the mail.

Farrow was caught by Australian police on March 14 after roughly a month on the run. Two friends posted $150,000 bail for her in February. Her problems date back to 2009 when the DEA raided her Hollywood apartment and claimed to find evidence of a drug-dealing ring.

After her capture on Australia's Gold Coast and subsequent extradition to Sydney, Farrow told reporters that she was on the run because she feared underworld acquaintances wanted to kill her.

Farrow modeled for designer Ed Hardy's swimsuit line and appeared in Penthouse magazine.

Farrow allegedly used 19 aliases to distribute drugs.

Before her arrests, Farrow pursued a music career as a singer and often promoted her latest tunes on her restricted Twitter account.
She was extradited by flight to Sydney where she arrived crying. She told reporters that she was on the lam because her life was in danger.
"The only reason I've done this is because someone was trying to murder me," Farrow said, adding that she's had "relationships with numerous underworld figures."
"I wasn't trying to flee the country at all," she said. "I was trying to protect myself from being killed or harmed."
Authorities claim she used 19 aliases and concealed meth in packages of bath salts that were shipped Down Under from the U.S.
One member of the supposed trafficking network committed suicide in California after being contacted by U.S. investigators, according to the Sunday Telegraph.