SXSW 2012: Mexican Band Bam Bam Talks Their Name, Best Song And Being Less Naive At SXSW (VIDEO)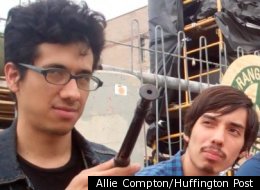 Mexican band Bam Bam are old hands at SXSW, but they're just starting to get their bearings. Last playing in 2008 and 2009, lead singer Mou Ortiz said they're less "naive" and "more relaxed" this time around, and planned on taking some more time away from loud music to see the city behind the chaos.
The Monterrey, Mex.-based band has a layered sound that's part grunge rock, part trance, winding in off-kilter directions that are easy to get lost in -- a style best explained in their video for "Ragatron." Mou (vocals, guitar), Rene (guitar), Leo (bass), Vanila (drums) and Javi (keyboards) of Bam Bam sat down with HuffPost to talk why they had a show before they had a name and the one song they would recommend to those who are unfamiliar with them ("Hipnodromo," which you can spin below).
Watch our video interview with Bam Bam, and tune in at the 4:37 mark to hear them play a recorder for us:
Watch the video for their recommended song, "Hipnodromo":
Watch the video for "Ragatron":
Watch Bam Bam play at the Red Eyed Fly at SXSW: