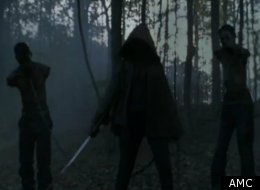 "The Walking Dead" is about to get a whole lot bloodier.
The AMC series has added a new character to the its roster: Michonne. Hailing from the comic book series of the same name, Michonne will be played by "Treme" actress Danai Gurira.
A sword-wielding, mysterious stranger with two "pet" zombies, Michonne first encountered the comic book version group of survivors at their prison camp. In the Season 2 finale of AMC's "The Walking Dead," Michonne meets Andrea in the woods.
Michonne isn't the only other new character coming to give Season 3 a nice jolt of energy. David Morrissey will play "The Walking Dead's" villainous Governor. Michonne and the Governor have more than one intense encounter in "The Walking Dead" comic book series. Want more Season 3 scoop? Hear what series star Norman Reedus had to say about his character's future here.
"The Walking Dead" has been a ratings juggernaut for AMC. It has broken cable ratings records, only to top themselves again. Its midseason premiere in February brought in more than 8 million viewers.

Check out highlights from "The Walking Dead" Season 2 finale below.