8 Alternative Spring Break Trips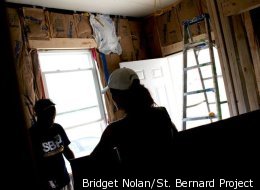 Not every college student heads south on spring break to get hammered on a beach.
Nowadays, students do all kinds of different activities during their vacations, and some of them actually help the world. Some college kids traveled to New Orleans to help rebuild in the aftermath of Hurricane Katrina. Other students stayed near their campus to assist the local Habitat for Humanity projects, building homes for needy families.
Take a look at a few stories of students helping out during their spring breaks:
Alternative Spring Breaks
Forty-four students from Howard University in Washington, D.C. traveled to Detroit, Mich. to mentor teenagers and assist in cleaning at the Salvation Army Adult Rehabilitation center.

Boston University had upwards of 400 students volunteer for its alternative Spring Break program this year. The students traveled to 37 different spots around the country doing everything from cleaning parks to taking care of animals.

Law students from eight different law schools gathered in Memphis, Tenn. to provide legal assistance to clients free of charge. Students came from the universities of Memphis, Tennessee-Knoxville, Mississippi (Oxford), Toledo (Ohio), Valparaiso (Indiana), Southern (Louisiana), Nova Southeastern (Florida) and George Washington (St. Louis).

Students from the University of Rhode Island traveled to Austin, Texas to volunteer at a local food pantry, clean properties that were destroyed by wildfires, and help build alongside a local branch of Habitat for Humanity. They were part of the campus group URI SAVES. Photo Credit: URI SAVES

Several students from the University of Texas at Arlington traveled to New Orleans, La. to volunteer their time with children affected by Hurricane Katrina. Photo Credit: UTA/Alysia Castillo

Students from Eastern Illinois University also traveled to New Orleans. Students volunteered with Project Lazarus, a residential facility that provides assisted living to people with AIDS. Some other EIU students stayed in Charleston, Ill. to help out Habitat for Humanity.

Students from the University of New Mexico went to New Orleans to join the St. Bernard Program, a nonprofit organization dedicated to disaster relief. The program numbered three UNM students in 2011, but this year nine students participated. Photo Credit: Bridget Nolan/St. Bernard Project

Two groups within Missouri University of Science and Technology's Miner Challenge program are going to spend their spring break working with organizations in Chicago and Washington, D.C. that deal with hunger and illness. Image Credit: Miner Challenge Facebook