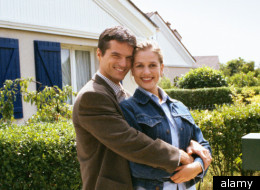 Looking for the best place to settle down after you and your partner tie the knot?
A new report from Rent.com, released on Tuesday, has narrowed down the 10 best cities in the country for newlyweds.
The online rental housing listing site took a number of variables into consideration when identifying the top cities for newlyweds -- including cost of living, mean annual income and the unemployment rate, among other factors.
The website also surveyed couples about what it was like to combine households after getting hitched, and found that among the 1,000 cohabiting adults polled, 75 percent felt their overall quality of life had improved since moving in with their significant other.
But married life certainly comes with its own challenges. For those who found living with their significant other to be stressful, 42 percent felt it had to do with not having their own space, while a third said that sharing household expenses put a strain on their relationship.
So which cities made the top 10? Click through the slideshow below to find out.
Baltimore, Maryland was chosen for its hospitality.

Washington, D.C was chosen for its centrality in the nation and job availability.

Phoenix, Arizona was chosen for its foodie, family and hiking culture.

Minneapolis, Minnesota was chosen for its bike-friendliness.

Denver, Colorado was chosen for its craft beer culture and spirit of adventure.

Houston, Texas was chosen for its rich cultural offerings (including museums, galleries and farmer's markets).

Kansas City, Missouri was chosen for its plethora of historical sites and affordability.

Dallas, Texas was chosen for its lively sports community.

Raleigh/Durham, North Carolina was for its affordability and friendliness to young families.

Austin, Texas was chosen primarily for its vibrant arts scene.