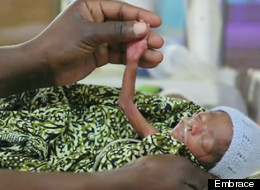 This story is part of HuffPost Impact's "Spring Into Action" series. Beginning March 20, the first day of Spring, we're highlighting fresh, innovative ways to give and get involved -- new cause initiatives, volunteers doing innovative things, families in need who have unique stories to tell, new Impact bloggers and more. Check back the week of March 20 to March 27 to hear about what's new in everything from veterans issues to child poverty -- and how you can get involved. Today, we begin with social entrepreneurs, whose innovative ideas inspire us to Spring Into Action and show us new ways we can help.
----
The greatest examples of small ideas turned into grand solutions come from social entrepreneurs who span the globe from Rhode Island to Johannesburg.
To highlight the works of top social innovators, Link TV's ViewChange project will feature a half-hour documentary March 28 on the Huffington Post that will include the winners from the McKinsey & Company's Social Innovation Video Contest. This documentary coincides with the Skoll World Forum for Social Entrepreneurship March 28-30,
McKinsey & Company launched its Social Innovation Video Contest in December and received nearly 150 videos from 30 different countries. We're featuring three of the top innovators for our "Spring Into Action" series, including a former stay-at-home mom tackling child malnutrition with peanut butter and a tech innovator tackling sex stigma through apps.
In addition to these entrepreneurs, Link TV's documentary will also highlight social innovation leaders including a video selection featuring Bill Clinton, McKinsey's Lynn Taliento, ONE chairman Tom Freston and top Obama counterinsurgency strategist Dave Kilcullen.
The Skoll World Forum on Social Entrepreneurship gathers 900 delegates from the social, finance, private and public sectors to meet at Oxford to share entrepreneurial approaches and innovative solutions to the world's most pressing social issues. This year's speakers include Arianna Huffington, editor-in-chief of the Huffington Post.
Check out the slideshow below of video finalists from the Social Innovation Video Contest as a preview for LinkTV's documentary:
SLIDESHOW:
Navyn Salem, formerly a stay at home mom, started her nonprofit, Edesia , as a commitment to help needy kids everywhere. To date, her organization has helped provide Plumpy'nut peanut butter paste to some of 195 million hungry children worldwide in areas such as Haiti, Niger, and the Horn of Africa. The ready-to-use food, created by scientists and processed in a factory, also provides jobs in the U.S. Since the nonprofit broke ground on the Providence, R.I., building in 2010, it's gone from 3 to 37 employees, creating jobs in an area that faces high unemployment. Get involved with Edesia here.

The Praekelt Foundation, which uses mobile technology to help reach and spread awareness on social issues, launched the campaign YoungAfricaLive. It has since become one of the largest mobile social networks that engages Africans on topics of love, sex, and relationships, with particular attention to the prevalence of HIV/AIDS. The campaign uses testimonies, live chat options, relationship advice, debates and quizzes. Get involved with YoungAfricaLive here.

To begin to help the 2.6 billion people who lack basic sanitation, Peepoople developed a single-use, self-sanitizing toilet in 2006. The low-cost Peepoo, created by the Stockholm-based organization, transforms human waste into valuable fertilizer and plays a critical role in limiting the spread of water and sanitation related diseases following a disaster. Get involved with Peepoople here.