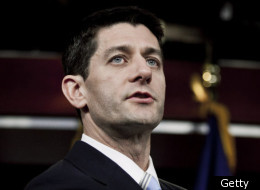 House Budget Committee Chairman Paul Ryan unveiled a budget Tuesday that would slash federal spending by $5 trillion more than the budget President Barack Obama released last month, in large part through sweeping cuts to safety net programs.
As HuffPost's Michael McAuliff reported, Ryan's budget will never become law because Senate Democrats will not take it up. But the "Path to Prosperity," as the plan is called, draws a sharp contrast with Obama's budget and may put GOP candidates in the delicate position of siding with or against provisions of what is essentially a political document. Ryan (R-Wis.) insisted his plan won't hurt them.
Here are the basics of the Ryan budget to look out for on the campaign trail:
1. Medicare
Ryan's budget would cut Medicare by $205 billion compared to Obama's budget and would repeal the health care reform law. Seniors would have the option of switching to a government-financed "premium support" system that would allow them to buy private insurance on the open market. The government would be left to cover the sick who were rejected by private insurers. ThinkProgress reports:
The budget states that enrollees would be "guaranteed a plan that is at least the value of the traditional fee-for-service Medicare option," but private insurers could still attract a healthier population by simply ratcheting down services that sicker beneficiaries rely on (like chemotherapy) and building up coverage for healthier applicants (like preventive services). Should they succeed, traditional Medicare costs will skyrocket, forcing even more seniors out of the government program.
2. Medicaid
The Republican blueprint calls for $770 billion in cuts to Medicaid, which would be converted to a block grant program run at the state level. Medicaid is currently a matching program, which means that states receive federal funds when they add more recipients. Ryan proposes controlling costs by sending the funds for both Medicaid and food stamps as block grants and giving the states discretion over how to spend the funds -- in a provision he described as "welfare reform, round 2."
"We don't want to turn the safety net into a hammock that lulls able-bodied people ... into complacency and dependence," he said Tuesday.
3. Health Care Reform
Ryan wants to repeal President Obama's health care reform law, which he says would save $1.6 trillion.
But repealing the law would mean reinstating some $455 billion in Medicare funding, including $132 billion for Medicare Advantage companies, many of which have a history of billing the government for far more than they paid out and duping seniors into signing up for bogus services. And the Ryan plan would slash subsidies designed to help people fulfill the Affordable Care Act's requirement to purchase health insurance coverage and would leave millions of Americans uninsured. Because the Ryan budget offers no plan to control medical costs or insurance premiums, the government's health care savings would come at the expense of individuals.
4. Tax Reform
The Ryan budget would lower the top individual income tax rate from 35 percent to 25 percent. It would set just two income tax rates of 10 percent and 25 percent and a corporate rate of 25 percent. Ryan argued that the plan would be "revenue neutral" and make up for tax cuts by eliminating many deductions and loopholes.
His plan would result in $3 trillion in tax cuts for the wealthy and corporations.
5. Defense Spending
Under Ryan's budget, some of the savings from deep cuts in entitlement programs would be funneled into military spending. ThinkProgress reports:
The Ryan budget protects defense spending from automatic cuts agreed to in last year's debt deal, then boosts defense spending to $554 billion in 2013 -- $8 billion more than agreed upon in the deal. At the same time, it asks six Congressional committees to find $261 billion in cuts. That includes $33.2 billion from the Agriculture Committee, meaning food stamps and other social safety net programs are likely to face cuts, all while the Pentagon remains untouched.
Released the day of the Illinois Republican primary, Ryan's budget has already become a political lightening rod. Democrats put a mocking video online before the budget was even released. Ryan has not endorsed any of the GOP presidential candidates, but he consulted with each of them before releasing the budget, according to The Hill.
"I have spoken to all of these guys, and they believe we are going in the right direction," Ryan said.
Newt Gingrich, who slammed Ryan's "radical" budget as a piece of "right-wing social engineering" last year, has already embraced the election-year version of the plan as "courageous." Mitt Romney, Rick Santorum and Ron Paul did not immediately comment.
Here is what the GOP candidates had to say about Ryan's budget last year:
Where GOP Presidential Candidates Stand On Paul Ryan's Budget Plan
Former Massachusetts Gov. Mitt Romney has exercised caution in communicating his position on Ryan's proposal. While he has signaled support for the objectives it seeks to accomplish, the presidential candidate has said he intends to put forth his own plan for entitlement reform. "If we don't make any changes, then Medicare won't be there for the next generation and that's unacceptable to me. So I appreciate what Paul Ryan has done," Romney said during a stop in Iowa. "I'm going to have my own plan." When asked specifically if he would endorse Ryan's proposal if elected president, Romney dodged the question. "That's the kind of speculation that is getting the cart ahead of the horse," he said. Back in April 2011 when Ryan's plan was under consideration in the House of Representatives, Romney issued a statement on the proposal. According to Talking Points Memo, he said, "I applaud Rep. Paul Ryan for recognizing the looming financial crisis that faces our nation and for the creative and bold thinking that he brings to the debate. He is setting the right tone for finally getting spending and entitlements under control. Anyone who has read my book knows that we are on the same page." After the candidate expressed ambivalence about entitlement reform at an event with GOP donors in New York in April, a spokesman for Romney relayed the following statement to Ben Smith at Politico seeking to clarify the Republican hopeful's position: "Mitt Romney recognizes that it is absolutely imperative that we take on the rising cost of entitlements, which is why in his book he devotes an entire chapter to the specific steps he would pursue to rein in Social Security, Medicare and Medicaid," he said, pointing to the chapter in which Romney suggests a combination of technical adjustments and more sweeping reforms to the entitlement plans.

Former Pennsylvania Sen. Rick Santorum voiced support for Ryan's proposal shortly before it was approved by the House of Representatives in a party-line vote in 2011. "I commend Chairman Ryan's long-term budget proposal that tackles entitlement programs, particularly his proposed reforms of the Medicaid program," Santorum said in a statement, according to The Hill. "Congressional Republicans are making the tough choices in the short and long-term to bring the Federal budget under control, and I urge the American people to stand with them in the face of the Democratic party obstructionism." Santorum addressed the issue of entitlement reform in discussing the launch of his campaign for the White House during an appearance on ABC's "Good Morning America." "In an election year, I went out to the floor of the United States Senate with Senator Jim DeMint and started arguing for reforming Social Security," said the Republican hopeful of work he conducted while serving in the Senate. "Not even Paul Ryan and his budget now, in the face of trillions of dollars in deficits currently, had the temerity to step forward and say we have to do Social Security."

It's no secret that critical remarks former House Speaker Newt Gingrich made about where he stands on Ryan's plan set off a firestorm of conservative criticism and contributed to an extremely rocky first week on the trail since Gingrich officially declared his candidacy. What received less attention, however, were comments Gingrich made expressing similar hesitancy about the issue of entitlement reform just weeks earlier. "I think it is a dangerous political exercise," he told the New York Times of efforts being made within his party to advance legislation to curb entitlements. "This is not something that Republicans can afford to handle lightly." When Gingrich subsequently criticized Ryan's plan as "radical," it didn't sit well with members of his party. "I don't think right-wing social engineering is any more desirable than left-wing social engineering," Gingrich said during an appearance on NBC's "Meet the Press." "I think we need a national conversation to get to a better Medicare solution for seniors." On the heels of making those remarks, Gingrich saw backlash from many within his own party, including Ryan himself, who said the presidential hopeful didn't understand the mechanics of his proposal. The former House speaker attempted to minimize the effect of his comments -- even offering an apology to Ryan -- but the damage had been done. The Boston Globe reported on what Gingrich had to say about Ryan's plan during a stop in New Hampshire just as the controversy began to subside: Gingrich praised Ryan for "starting the conversation'' and added "the underlying principle is exactly right.'' But when asked if he supported turning Medicare into a voucher program, as Ryan would, Gingrich made no commitment, saying only that he supports debating options to give individuals more freedom to choose health-savings accounts or other payment models.

Rep. Ron Paul took issue with Ryan's proposal in April 2011. HuffPost's Jon Ward reported on what the Texas congressman had to say about the plan at the time: [T]he libertarian firebrand Paul, who will turn 76 this summer, said Ryan's plan doesn't go nearly far enough toward dismantling the welfare state. Ryan's budget is set to pass the GOP-controlled House this week. "We are dealing with a problem in Washington as a budgetary accounting problem and that's not it. It's a philosophy problem." Paul said. "What is the philosophy of government? What should the role of government be?" The congressman went on to question the role of government in the economy and welfare system. "Ryan," he said, "doesn't reject that notion. I do." Paul said that neither Ryan's plan nor a budget proposal put forth by the White House could "solve our problems, or even come close." The Texas congressman was in the minority of Republicans in the House when he voted against Ryan's proposal in April 2011.