Draw Something And Tebow: The 13 Most Amazing Drawings Of Tebowing In OMGPOP History (PICTURES)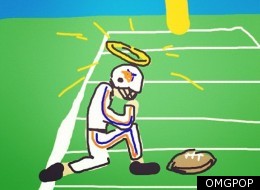 March 21, 2012 was a huge day for both Tim Tebow, who was traded from the Broncos to the New York Jets, and Draw Something, the Pictionary-like iPhone and Android game whose unprecedented popularity led to OMGPOP's sale to gaming goliath Zynga for a reported $210 million.
In honor of March 21, and the historic days of both Draw Something and Tebow, we asked the folks at OMGPOP to send us a little something by way of commemoration. They replied with these 15 drawings from their Draw Something game, which feature amazing, user-made artwork of one of the more popular Draw Something terms: "tebowing." Below, check out 15 of the best, worst, wackiest, most clever depictions of Tim Tebow in the brief (six weeks!) history of Draw Something. Spoiler alert: Most of these players are much better artists than I am.