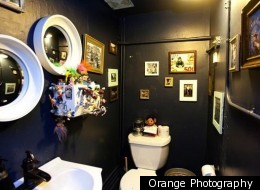 This article comes to us courtesy of The Bold Italic.
By Chloe Schildhause
For physiological and anatomical reasons I do not understand, I pee more often than the average person. I am not diabetic and my bladder seems to be of adequate size, so I am not sure where the issue is. It's a problem that's not only cumbersome to my daily activities, but also aggravates whomever I am spending a day with that, yes, I have to find a bathroom again.
Because of my struggles I have been fortunate enough to uncover some of the great restrooms in San Francisco. I am surprised that no bathroom in this city has won, or even made it as a finalist, in America's Best Restroom competition. The competition is in its 10th round, with this year's winner at The Field Museum in Chicago.
The prized bathrooms from the past decade are impressive, like the one at Shoji Tabuchi Theatre in Branson, Missouri, that has lion-head sinks imported from Italy and a hand-carved mahogany pool table. Or the humorous loo at Jungle Jim's International Market in Fairfield, Ohio, that looks like a Porta-Potty from the outside, but inside houses a huge and luxurious temple of toilets.
The standards set for this competition are of the highest caliber. Sabrina Zimring, one of the 10 survey editors for America's Best Restroom, told me, "We have hundreds of nominations come in from all 50 states. It certainly doesn't mean there are no great bathrooms in San Francisco. We just need people to nominate them."
A few local washrooms have been suggested over the years, but Sabrina said they didn't make the cut. "The bathroom has to be really unique and has to spark an interest in people."
There's no formula for being America's Best Restroom, and there is really no set criteria for the lavatories I have selected as my favorites. These picks for the best places to pee in San Francisco cover a variety of needs. They can be classy or kitschy, clean or trashy (the décor, not the smell), a quiet retreat or a gossip haunt. Some of these restrooms are unisex, but the list is heavy on women's restrooms, because, well, I wrote it.
Selling point: I love a bathroom that can be entered in an inconspicuous fashion. The ones in the Clift lobby are easy to get to without making a spectacle. Walk in through the hotel's main doors, or avoid all human interaction by taking the side entrance to the bathroom hallway. It's a great escape for when you want to be alone. Design motif: A modern gem designed by Philippe Starck with the help of the Morgans Hotel design team. Notice the two white porcelain sinks held up by stylishly curved black legs. The water spigots produce soft streams of water as you wash your hands, mini lamp shades seem to float above your head, and the three toilets are housed in private chambers.

Selling point: This Mexican- and Turkish-inspired tapas restaurant is kitschy fun with a restroom that doubles as a tropical oasis. Design motif: Designed by the restaurant's co-owner, Lorena Zertuche Diaz, the bathroom is decorated with beach scene wallpaper, bird-shaped mirrors flying off into a painted sunset, a ceiling of recycled bike mirrors, and a door collaged with bright orange Isadora labels (a popular canned bean in Guadalajara). A crystal chandelier dangles from the ceiling and a blue chair upholstered with festive bird-print fabric sits in the corner. Lorena said she wanted guests to feel like they were at a Mexican beach, and to further enhance that experience, the restroom has a soundtrack that alternates between waves crashing and birds chirping. A customer once asked the owners where they were keeping the birds.

Selling point: It's such a waste not to learn something while using the loo. This Japanese restaurant's bathroom is equipped with a Japanese language instructional tape. On my last visit I learned how to ask, "What is the exchange rate?" and "Is there a fax for me?" Very useful. Coincidentally, the only Japanese phrase I knew prior was "o-tay-adra-ee-wado-kadeska," which means, "where is the honorable washroom?" Design motif: Umami's bathroom has value beyond education. It was designed by Lauren Geremia for the utmost elegance. The grandiose concrete sink is a sea of white ridges where the water flows between (the men's room has a black sink of the same design) with bamboo shoots sitting in the sink corners. Lauren said she was going for a look of "sediment and erosion." She has designed a number of stylish bathrooms in the city, including ones for Churchill, Bloodhound, and Taco Bar.

Selling point: This restroom offers useful accessories unavailable at most lavatories. Just outside the stall there's a vintage tampon-style dispenser, but this pale pink box offers "sexy surprises" in lieu of feminine products. For 75 cents you can buy an "Oriental Exciting Ring," "Swedish Massage Love Oils," or a "Sex Tingler Condom." Design motif: The walls are plastered with old liquor labels collaged in swirls reminiscent of Van Gogh's "Starry Night." The door is further decoupaged with vintage photographs of elegant women, depictions of Mary with Jesus, a bull, a cigar and other collectible images.

Selling point: At this circus-themed restaurant, guests can sit in an old Tilt-A-Whirl while feasting on treats like Jenga-style French toast. The bathroom is equally entertaining. Design motif: The cozy WC is decorated with framed photos of Coney Island classics: The Ferris wheel, a fire breather, the headless woman, and everyone's favorite boardwalk game, Shoot the Freak. Yes, some of the photos may be crooked and on the verge of falling on the floor, but that's part of the charm. This isn't a restroom for the vain -- the mirrors are distortive circles similar to the kind you find in a fun house. There's also a campfire lamp sitting on top of the toilet. Curious.

Selling point: Sometimes you just need a toilet that's more advanced. One that is smart enough to satisfy all your needs. Design motif: The theme here is intelligent design. The automatic bidets at New People are equipped with side remotes giving you full control of the temperature of your seat (which can be startlingly warm when you first sit down, depending on the past user's setting) and the option to clean your front and rear with fresh water. Added bonus in the men's room: a thoughtful quote at the sink mirror that reads, "Speak before you think."

Selling point: This women's restroom is a classic, and one of the most historical places to urinate when downtown. Walk past the bed linens and you too can enjoy one of San Francisco's most elegant washrooms. Design motif: Designed by legendary architect Timothy Pflueger (Top of the Mark at the Mark Hopkins Hotel, Bimbo's, Castro Theatre), this restroom has been around since 1948 and is an art deco wonderland. The stall doors are insanely heavy as they are made of wood and lined with antique mirrors. Author Therese Poletti, who wrote a book on Pflueger, Art Deco San Francisco, informed me that the original walls, made of green Italian marble and trimmed with cremo marble, remain intact. The gold leaf ceiling features a grandiose chandelier, and three white marble sinks, held up by gold legs, are waiting for you to wash your hands. Hand towels are situated in gold dispensers. Peeing here is a grand affair.
For more San Francisco stories, visit the Bold Italic online or follow them on Twitter.