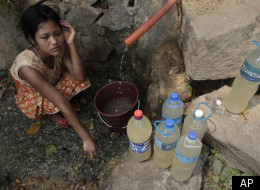 According to Water.org, every 20 seconds a child dies from a water-related disease.
But children aren't the only ones affected by the worldwide water crises. World Water Day 2012, March 22, draws specific attention to the fact that millions go without clean water each day, and billions don't have a toilet.
There are plenty of ways to get involved -- pay an extra $1 for that free glass of water at the beginning of a restaurant meal and support programs that help kids in need. Use your social media accounts to spread awareness about the cause.
The slideshow below highlights organizations providing clean water for people in need worldwide. Find out what you can do to get involved.
SLIDESHOW:
5 Ways To Fight Global Water Crises
Each year, 3.575 million people die from water-related diseases, according to Water.org, an organization founded by Matt Damon and Gary White. The nonprofit advocates grassroots collaboration in ending the worldwide water and sanitation crises, and provides live updates to communities that are receiving your donation through my.water.org. To get involved with Water.org, click here.

Of the 30,000 water-related deaths that occur each week, 90 percent of those deaths are children, charity: water states. Charity: water brings clean and safe drinking water to people in developing nations through several different water technologies including hand-dug wells, drilled wells, rehabilitations and rain catchments. To get involved with charity: water, click here.

The Free Water Project brings water to developing nations facing drought through wind turbines -- teaching the locals how to use the technology themselves, and also aiding orphaned children in the communities it reaches out to. To get involved with the Free Water Project, click here.

According to UNICEF, 37 percent of the developing world still lacks access to safe sanitation facilities. The organization works in 90 countries around the world, providing safe drinking water and sanitation to schools and communities, and places special focus on hygiene and its relation to safe water and sanitation -- especially through simple things like using hand soap. To get involved with UNICEF, click here, or find out more about its Tap Project.

In Bali alone, nearly 70 percent of the water used comes from contaminated sources, according to Waves for Water, an organization founded by surfer Jon Rose. It works to make changes in water accessibility for nations around the world through the donation of filters. These filters are give away by "clean water couriers" -- travelers and surfers who volunteer to help Waves for Water complete its mission. To learn more about Waves for Water, click here.