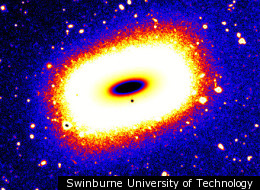 The vast majority of galaxies are either flattened, disklike spirals like our own Milky Way, ellipsoidal rugby ball-shaped blobs, or irregular clumps of stars. Now, an international team of astronomers has found a rare exception: a galaxy shaped like a rectangle. The boxy agglomeration (false color image above), dubbed LEDA 074886, is one of about 250 galaxies in the cluster surrounding the giant galaxy NGC 1407, which lies about 70 million light-years from Earth in the constellation Eridanus. A disk of bluish, relatively young stars at the center of LEDA 074886 hints at one possible reason the galaxy has an "emerald-cut" shape: It could be the remnant of a collision between two smaller galaxies in which preexisting stars were strewn into a boxy halo and gas clouds gravitated toward the center of the mass and coalesced to form new stars, the researchers will report in a forthcoming issue of The Astrophysical Journal. They also note that after our Milky Way collides with the nearby Andromeda galaxy, perhaps 3 billion years from now, our descendants might live in a boxy galaxy, too.
ScienceNOW, the daily online news service of the journal Science
PHOTOS: BIGGEST NASA DISCOVERIES OF 2011
In February, NASA's STEREO probes, two observatories that were launched in 2006 to survey the sun, reached opposite ends of the sun and thus, were able to give scientists (and the rest of us!) a never-before-seen view of the far side of the star at the center of our solar system. The composite image above was captured on June 1, 2011, and according to NASA, "is the first complete image of the solar far side, the half of the sun invisible from Earth." Click here for more on the STEREO probes.

While it's not a "discovery," per se, it's a milestone that will no doubt lead to many new findings about the smallest and innermost planet in our solar system. In March, after a 6 1/2-year, 4.9 billion mile journey, NASA's Messenger spacecraft reached Mercury's orbit. Messenger, the first spacecraft to orbit Mercury, orbits the planet every 12 hours. In November, NASA announced that the spacecraft's mission, which was supposed to end on March 17, 2012, would be extended for an additional year.

In July, NASA said that its Hubble Space Telescope discovered an eight to 21-mile-wide moon circling the dwarf planet.

In March, NASA's Swift satellite saw an unusually long explosion of gamma-rays. After studying the X-rays, scientists found that they came from a black hole that had become reenergized when it devoured a star. From NASA: Astronomers soon realized the source, known as Swift J1644+57, was the result of a truly extraordinary event -- the awakening of a distant galaxy's dormant black hole as it shredded and consumed a star. The galaxy is so far away, it took the light from the event approximately 3.9 billion years to reach Earth.

NASA's Dawn, an ion-propelled spacecraft that traveled 1.7 billion miles before reaching the asteroid Vesta in July, sent back images in October revealing that Vesta is home to a mountain larger than any mountain on Earth. In December, NASA released new images that Dawn took when it was orbiting only 130 miles above the asteroid, the closest it will get to Vesta. Dawn will continue to image Vesta until next summer, when it will make its way to Ceres, a bigger asteroid.

NASA's Kepler spacecraft found a planet that orbits two suns, driving fans of the "Star Wars" franchise to call it a real-life Tatooine. Astronomers announced Kepler-16b, which is the first circumbinary planet -- meaning it orbits two stars -- in September. Click here for more on Kepler-16b.

Scientists in early December announced the discovery of Kepler-22b, a planet with a temperature of around 72 degrees that's in the so-called "Goldilocks," or habitable zone. While the temperature of the 600-light-year away planet could sustain water, it has a radius of 2.4 times that of Earth's, so it's probably too big to harbor life.

Astronomers announced in early December that they had found the biggest black holes to date. The massive black holes, which are 10 billion times the size of the sun, are located over 300 million light years away.

Scientists had long-thought that a large body of water existed under the surface of Europa, Jupiter's moon, but it was thought to be tens of miles below an icy crust. In November, though, astronomers analyzing data from NASA's Galileo spacecraft found evidence that suggests blocks of ice interact with water below the surface, which could mean that nutrients and energy are moving between the underground ocean and icy shell. Britney Schmidt, the lead author of the study, which appeared in the journal Nature, said that the interaction "could make Europa and its ocean more habitable for life." Click here to read more about water on Europa.

NASA's Voyager probes -- launched over 30 years ago -- found huge magnetic "bubbles" at the edge of the solar system. "The sun's magnetic field extends all the way to the edge of the solar system," astronomer Merav Opher of Boston University said in a NASA statement. "Because the sun spins, its magnetic field becomes twisted and wrinkled, a bit like a ballerina's skirt. Far, far away from the sun, where the Voyagers are, the folds of the skirt bunch up." Voyager 1 and Voyager 2 were launched in 1977. Voyager 1 is currently 11 billion miles away and may exit our solar system within the next few years.

In December, scientists announced that NASA's Mars Rover Opportunity may have found gypsum that had been deposited by water. "This tells a slam-dunk story that water flowed through underground fractures in the rock," Steve Squyres, a planetary scientist at Cornell University and the principal investigator for Opportunity said in a NASA statement. NASA's Curiosity Rover is en route to the Red Planet and will arrive in August 2012.

Weeks after the announcement of Kepler-22b, scientists said that they'd discovered Kepler-20e and Kepler-20f, two planets that are about the size of Earth. While the planets are too close to their sun-like star to harbor life as we know it, the discovery proved that the Kepler spacecraft was capable of spotting planets that are Earth-size, and brings us one step closer to finding a true Earth twin. Click here for more on the new planets.