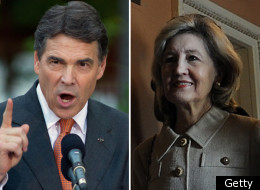 Sen. Kay Bailey Hutchison (R-Texas) ripped Governor Rick Perry on Thursday for excluding Planned Parenthood and other programs for women from the Lone Star State's health care program.
"I do think that the governor needs to sit down with the federal government and work it out so that we can have our share, our fair share, not more, of money for Medicaid to help low-income women have their healthcare services," Hutchison said during an interview on MSNBC.
Hutchison expressed her support for Planned Parenthood and emphasized how low-income women rely on the government programs that are losing funding.
"I think Planned Parenthood does mammograms, they do so much of the healthcare, the preventative healthcare, and if they're doing that, then we need to provide those services, absolutely," Hutchison said. "We cannot afford to lose the Medicaid funding for low-income women."
In mid-March, the Department of Health and Human Services announced it would cut off all Medicaid funding for family planning to the state of Texas, following Perry's decision to implement a new law that excludes Planned Parenthood from the state's Medicaid Women's Health Program.
HuffPost's Laura Bassett reports:
The federal government pays for nearly 90 percent of Texas' $40 million Women's Health Program, and nearly half of the program's providers in Texas are Planned Parenthood clinics. But the new law that went into effect earlier this month disqualified Planned Parenthood from participating in the program because some of its clinics provide abortions, even though no state or federal money can be used to pay for those abortions.

...

Perry wrote a letter to President Obama earlier this month accusing his administration of "mandating which health providers the state of Texas must use" in order to "continue to support abortion providers like Planned Parenthood." He vowed to continue the Women's Health Program in Texas without Planned Parenthood and without federal money, although he has yet to outline how his state will come up with money.
Below, a slideshow of the remaining GOP hopeful's views on women's health:
GOP Presidential Candidates On Women's Issues
Romney's position on abortion and other women's health issues switched from pro-choice to anti-choice during his term as governor from 2003 to 2007, and his record on choice-related issues is mixed. He vetoed a measure that would have allowed pharmacists to dispense emergency contraception without a prescription to rape victims, but he signed into law a measure to expand family planning services for low-income women and families in Massachusetts. Romney was also one of the few GOP candidates who refused to sign the Susan B. Anthony List's pro-life pledge, because his camp said it could have some "potentially unforeseen consequences." But he believes abortion should only be legal in cases of rape, incest or to save the life of the mother, and he said if he were president he would support the reversal of Roe v. Wade. "This is not the time for the Republican Party to put up a candidate who is weak on the pro-life issue or has a history of flip-flopping over it," Bachmann said of Romney at a National Right to Life convention in June. Romney said as president he would defund Planned Parenthood, and then took it even further saying he'd "get rid of that" altogether.

During his 19 years in Congress, Gingrich cast 74 votes on reproductive rights, women's health and family planning issues, and 72 of those were anti-choice. Gingrich voted multiple times to give legal "personhood" status to an embryo and supported the Federal Abortion Ban, which would impose a two-year prison sentence on doctors who perform certain kinds of abortions. He also repeatedly voted to deny military women the right to have abortions at military hospitals, even if they paid for it themselves, and cited "biological problems" as his reason for opposing women's right to join the military. As president, Gingrich has said he would try to defund Planned Parenthood and eliminate the entire Title X program, which provides non-abortion family planning services for millions of low-income women across the country.

Paul has stated he is pro-life, however he's more moderate on abortion than some of the other GOP presidential candidates, particularly Rick Santorum. When pressed, he conceded that if one of his daughters was raped, he would not want her to have the child. Paul weighed in on contraception on "The Tonight Show" in March. As a former OBG-YN, Paul said he's prescribed a lot of contraception. "If people have reservations about abortion, the abortion is the issue, it isn't the birth control pill. It isn't the instrument, he said.

Santorum wants abortion banned in all circumstances, even in cases of rape and incest; is opposed to all family planning programs; and believes that schools should be forbidden to teach students about contraception. As a senator, Santorum voted against funding pregnancy prevention programs for teens and voted for the "family cap" and the "illegitimacy cap," which would have financially penalized low-income women for having children and penalized states for children born out of wedlock. And one of Santorum's priorities as president, he has said, will be to defund Planned Parenthood, which he believes is motivated by racism and eugenics. "I can't imagine any other organization with its roots as poisonous as the roots of Planned Parenthood getting federal funding of any kind," he told reporters in April.