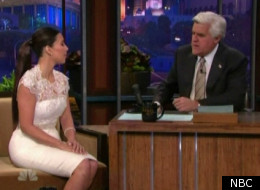 Kim Kardashian stopped by "The Tonight Show" (Weeknights, 11:35 p.m. ET on NBC) Wednesday night and joked with host Jay Leno about her short-lived marriage to Kris Humphries and her role in Tyler Perry's new movie.
Kim pops up in "The Marriage Counselor" playing -- what else? -- a marriage counselor.
Kim said she's still looking for true love, but will anyone care? Zap2It says "She seems to have a really good attitude about all of this" and a Gather blogger joked that "it's good for the world to know that Kim is finding the will to go on."

Check out HuffPost's hilarious mash-up of Kim's finest moments.
"The Marriage Counselor" is in movie theaters Friday July 27. "The Tonight Show" airs weeknights at 11:35 p.m. ET on NBC.
TV Replay scours the vast television landscape to find the most interesting, amusing, and, on a good day, amazing moments, and delivers them right to your browser.