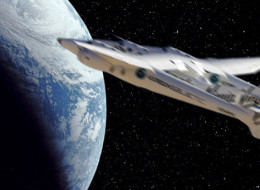 Buckle up.
Within a decade, the FAA is predicting that space tourism will become a billion-dollar industry, according to a Reuters report.
"Based on market studies, we expect to see this type of activity result in a billion-dollar industry within the next 10 years," George Nield, associate administrator for the Federal Aviation Administration's Office of Commercial Space Transportation (AST), said in a statement before the House Subcommittee on Space and Aeronautics hearing Tuesday.
There is a handful of companies planning to offer sub-orbital private space flights, most notably Sir Richard Branson's Virgin Galactic. Branson announced earlier this week that "Two and a Half Men" television star Ashton Kutcher was the 500th person to sign up for a $200,000 ride aboard Virgin Galactic's Space Ship Two. According to Discovery News, Virgin Galactic expects to begin flights in 2013.
XCOR Aerospace, a small company based in California's Mojave Desert, also is already selling seats aboard its winged Lynx suborbital space vehicle. Mike Massee, a spokesperson for XCOR, told The Huffington Post that the company expects to begin testing late this year or in early 2013, and that commercial flights should begin by 2014. Tickets cost $95,000 per flight.
Four other companies -- Blue Origin, Boeing, SpaceX and Sierra Nevada Corporation -- have contracts with NASA to develop technology to transport crew members to low-earth orbit and the International Space Station. In summer 2011, NASA's space shuttle program, which brought personnel and supplies to the space station, was discontinued.
SpaceX is planning a test of its Falcon 9 rocket and Dragon spacecraft next month.
Kirstin Brost Grantham, a spokesperson for SpaceX, said that while the company plans to carry private citizens in the future, it has not sold any tickets yet.
At the subcommittee meeting Tuesday, lawmakers expressed concern about the safety of the commercial spaceflight industry, Space.com reports.
"The public needs a clear understanding of the risks involved with commercial space transportation, and it will need to be convinced those risks are being effectively managed," said Rep. Jerry Costello (D-Il.), acting ranking member of the House Committee on Science, Space, and Technology's Subcommittee on Space and Aeronautics, according to a release from his office.
"AST will be at the center of establishing those expectations, as it will have a critical role in ensuring the safety of would-be space tourists, and potentially even of NASA astronauts or other spaceflight participants," said Costelo.
According to Space.com, space tourism companies have until October 2015 before the FAA institutes safety regulations for space tourists.
"It's kind of like the early days of flight, right after the Wright Brothers," XCOR's Massee said. "That's the best way to describe it. It's the beginning of our golden age of travel for space flight."
LOOK: Space travel of the future:
Space Travel Of The Future
The bloon, a helium-filled balloon, will take a capsule with as many as six people to 118,000 feet -- not quite outer space, but near space. The company expects to make its first commercial flight in 2013. The cost? €110,000, or about $147,000.

NASA announced in September that it's developing the Space Launch System (SLS), a heavy-lift rocket that will one day take humans farther than ever before. The 34-story rocket will carry six astronauts aboard the Orion Multi-Purpose Crew Vehicle. According to PC Mag, NASA will spend $18 billion over the next five years developing the SLS. With the retirement of the space shuttle program, NASA currently pays Russia around $60 million per person to get American astronauts into space. Remember, there's still time to apply to be an astronaut.

Over 450 "astronauts" have already booked a $200,000 spot on Sir Richard Branson's SpaceShipTwo, a craft that will take passengers to an altitude of 110 km (68.3 miles). Branson hopes to begin commercial flights in 2013, but that date could get pushed back. "We want to be sure we've really tested the craft through and through before turning it over to the astronauts who bought tickets to go up," he said in October, according to the Associated Press. "If it takes a bit longer, we'll take a little bit longer." Passengers will experience about five minutes of weighlessness during the 2 1/2 hour sub-orbital spaceflight.

In December 2010, SpaceX became the first private company to have a spacecraft re-enter orbit, when its Dragon spacecraft orbited earth twice and then landed in the Pacific Ocean. Next stop? The International Space Station. A representative from SpaceX told HuffPost that a Dragon capsule carrying supplies to the ISS will launch in early 2012. It will be the first commercial company to berth a spacecraft with the space station. But you're going to have to be a NASA astronaut to hitch a ride to space with SpaceX, as the company doesn't have any plans in the near future for space tourism.

Blue Origin, the notoriously-secretive company underwritten by Amazon.com founder Jeff Bezos, is developing both orbital and sub-orbital launch vehicles to take people into space. The company recently released video of a test of its New Shepard rocket, a three-person capsule and launch vehicle that the company is planning to use to take space tourists "to the edge of space." The cost and timeline of the completion of the New Shepard is unclear. In April, Blue Origin was awarded $22 million from NASA "to advance commercial crew space transportation system concepts and mature the design and development of elements of their systems, such as launch vehicles and spacecraft."

Space Adventures, a company that has sent seven private citizens to the International Space Station, announced in 2010 that it would partner with Armadillo Aerospace to provide suborbital spaceflights. The two-passenger rocket will land and take-off vertically and allow for a 360-degree view of the earth below. According to Jaunted, the rocket will travel 62 miles above the earth. Engadget reports that a flight to space will set you back $102,000.

Of course, you'll need somewhere to put your bags once you're in space. Orbital Technologies, a Russian company, is building a space hotel where 7 guests will be able to dine on veal cheeks and wild mushrooms at 217 miles above the earth. The company is planning to open the hotel in 2016. According to Reuters, a five-day stay will set you back a cool $1 million.