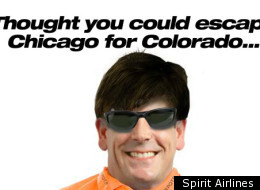 Florida-based Spirit Airlines is no stranger to Blagojevich-themed ad campaigns -- they've previously run "'F-ing Golden" and "Slammer Sale" promotions around the imprisoned former Illinois governor. And their latest campaign continues the trend.
"Thought you could escape Chicago for Colorado.. You Thought Wrong," an ad for the "Blago Attempts Escape!" promotion reads on the airline's website. "See you soon!"
The promotion offered flights "to Denver or any of our other great destinations" from $19.80 through 11:59 ET Wednesday.
"Blago is trying to escape us by leaving Chicago and heading to Colorado," the campaign proclaims. "We may not fly there today, but we will be reunited in May when we start our Denver service!"
In December, the airline offered $14 flights to customers in honor of the 14-year prison sentence the former governor received. Last summer, the company's "F-ing Golden" promotion featured fares as low as $17.
The airline has also mocked the likes of Tiger Woods, Charlie Sheen, Arnold Schwarzenegger and former Congressman Anthony Weiner in their promotional deals. They previously came under fire after mocking the Gulf Coast oil spill in a campaign titled "Check Out the Oil on Our Beaches." That campaign was pulled after only one day.