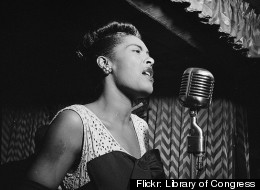 With Queen of Soul Aretha Franklin's birthday coming up this Sunday, the time is ripe to honor standout African-American women vocalists from the last 80 years.
The Charles H. Wright Museum of African American History will do just that on Friday, celebrating legendary artists with a tribute concert performed by the new guard of powerful women singers.
As arts and culture organizations around the city honor Women's History Month, the Wright brings together Detroit singers La Shaun phoenix Moore, L'Renee, Monica Blaire and Linda Boston to pay tribute to Billlie Holiday, Nina Simone, Odetta and Miriam Makeba.
And just down the hall from the concert, there's inspiration to be had at a launch of a new book by Crystal McCrary, the co-creator of BET show "Leading Women," and photographer Lauri Lyons.
Their book, "INSPIRATION: Profiles of Black Women Changing Our World," gets behind the scene with the black women leaders of our time: "from the White House to the courts of Wimbledon, and from Hollywood to the stages of the Metropolitan Opera House," according to the description. McCrary will be on hand to sign copies of the book, which features her in-depth interviews with Michelle Obama, Mary J. Blige, Laila Ali, Soledad O'Brien, Venus Williams and more.
The free tribute concert to Billie Holiday, Nina Simone, Odetta and Miriam Makeba will take place from 7 to 10 p.m. on Friday, March 23 at the General Motors Theater in the Charles H. Wright Museum of African American History, 315 East Warren Avenue, Detroit. The book signing will take place in the Wright's classrooms from 6 to 9 p.m.
Below, take a listen to the powerful singers performing Friday, as well as the masters who inspired them.
Celebrating Great Women Singers At The Wright Museum
"Ain't Got No...I've Got Life"

"Lady Sings the Blues"

Odetta on "The Johnny Cash Show," August 30, 1969.

"Malaika"

"With or Without Me"

"Ain't Nobody"

"Gloomy Sunday"

Written by Jimmie Skinner. From THE WOODSONGS OLD-TIME RADIO HOUR.

"Feelings" live at Montreux Jazz Festival (1976)

"Strange Fruit"

"Pata Pata"

"The Times They Are A-Changin'"

"Feeling Good"

"Renaissance State of Mind"

"I Play My Guitar For Her"
Flickr photo by the Library of Congress.