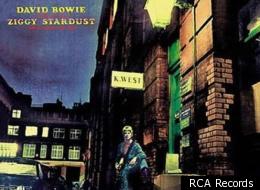 David Bowie has announced that he will reissue his classic 1972 album The Rise And Fall Of Ziggy Stardust And The Spiders From Mars in June for its 40th anniversary.
The remastered record will be reissued on June 5 on both CD and vinyl. The re-release will contain remastered audio of all 11 tracks off the album.
Bowie's epic concept album is based on a story of an androgynous alien rock star named Ziggy Stardust, who arrives on Earth to bring a message of hope via rock 'n' roll. After its release, the album peaked at No. 5 in the UK and No. 75 in the U.S. on the Billboard 200 charts.
In a 1974 Rolling Stone interview with William S. Burroughs, Bowie revealed his concept for Ziggy Stardust and his creative process.
"I must have the total image of a stage show," he said. "It has to be total with me. I'm just not content writing songs, I want to make it three-dimensional. Songwriting as an art is a bit archaic now. Just writing a song is not good enough... A song has to take on character, shape, body and influence people to an extent that they use it for their own devices. It must affect them not just as a song, but as a lifestyle."
Some do it better than others, but that doesn't stop celebs from embracing their alter egos. Take a look at some of our favorites below, Ziggy Stardust included.
While little monsters have known about Joe Calderone, Lady Gaga publicly debuted her Italian male alter ego at the MTV VMAs (Aug. 28)--complete with a prosthetic penis.

It's hard to imagine the Biebs as a MC, but when the teen heartthrob tweeted that Shawty Mane--his MC name--was back and rapping on "Ladies Love Me" from Chris Brown's new mixtape "Boy In Detention", we had to admit that he's got some game.

The multi-talented star (and soon to be mom) used to channel her inner diva, Sasha Fierce, when she performed onstage. Beyonce said Sasha Fierce was "this alter ego that I've created that kind of protects me and who I really am." Sadly, Beyonce killed off Sasha in 2010--"I didn't need Sasha Fierce anymore, because I've grown and now I'm able to merge the two," she told Allure.

The eccentric singer took to her MySpace blog to inform her fans that she's taken on a crazy alter ego named Cherry Kookoo. If the name has any indication, looks like Cherry must be pretty cuckoo.

In 1972, Bowie released the concept album, "The Rise and Fall of Ziggy Stardust and the Spiders from Mars," where he donned his famous flaming red mullet, tons of glitter and wild outfits.

Since she retired J.Lo, it looks like Jennifer Lopez was on the hunt for a new fierce alter ego, but it looks like nothing will ever be quite as catchy as J.Lo. In 2009. Lopez debuted a new alter ego, Lola, via Twitter: "Lola here. What's my deal? Well, wouldn't you like to know..."

When Mariah Carey released her tenth studio album, "The Emancipation of Mimi," she revealed that she wanted the title of the album to be "representative of where I'm at as an artist. This is the fun side, the real me, and not the image and the baggage that comes with the whole 'Mariah Carey' thing."

Although she's 'just being Miley' for now, it's still hard to forget Miley's super famous alter ego Hannah Montana--after all, it did pretty much launch her entire multi-million dollar career.

Comedian and actor Sacha Baron Cohen has a few alter egos: Ali G, Borat and Bruno. But it was Borat that launched him into international stardom. Borat was the lovable, yet clueless Kazakhstan native who thought clock radios were high-tech and believed making out with your sister was normal. Oh, Borat.

Garth Brooks was finally able to show the world his inner emo artist when he unveiled Chris Gaines, the alter ego at the center of Brooks' failed rock effort, "Garth Brooks In... The Life of Chris Gaines." But it looks like the world just wasn't ready for Chris Gaines--or his facial hair.

At the MTV VMAs (Aug. 28), rapper Nicki Minaj dropped a few details about her forthcoming, as-yet-untitled album. The short of it: It's gonna be filled with her alter ego Roman Zolanski. We just wonder if Nicki will pull a Gaga at next year's VMAs.

A few years ago, Pheonix--or some big hairy guy that looked like him--starred in "I'm Still Here," a documentary (more like a mockumentary) about the former actor's journey to make it in the rap world. Because his alter-ego totally looks like a rapper, right?