'SONG 1' Opens At Hirshhorn Museum, Which Gets Bloomberg Branding For Bubble-Like 'Balloon'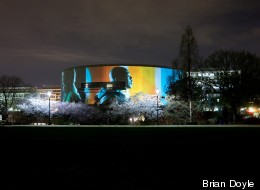 WASHINGTON -- Multimedia artist Doug Aitken's "SONG 1" was officially inaugurated on Thursday night literally wrapping the Hirshhorn Museum in moving images.
For those who can't get there in person, Smithsonian magazine has put up a video of the piece.
In it Aitken describes what 'SONG 1' is about -- and why he chose dozens of versions of "I Only Have Eyes for You," a "very perfect pop song" as Aitken puts it in, to accompany the work.
While "SONG 1" has certainly thrusted the Hirshhorn to the top of local cultural headlines, the museum, dedicated to international modern and contemporary art, had some other big news to share.
Washington City Paper reports that the planned giant inflatable temporary pavilion the museum plans to open in its courtyard will be called "The Bloomberg Balloon."
The structure has been known as "the Bubble." City Paper contributing writer Kriston Capps asked why the big blue inflatable structure would be getting a new name:
According to the Hirshhorn staffer, Bloomberg LP wanted to avoid the potentially negative financial connotations associated with the word "bubble." Hence: the Bloomberg Balloon.
The Bloomberg Balloon will rise next year from the museum's distinctive -- and aesthetically controversial cylindrical concrete core.
Photo courtesy of Doug Aitken and the Hirshhorn Museum and Sculpture Garden.

Photo courtesy of Doug Aitken and the Hirshhorn Museum and Sculpture Garden.

Artist Doug Aitken arrives at 'The Artist's Museum Happening' MOCA Los Angeles Gala held at MOCA Grand Avenue on November 13, 2010 in Los Angeles, California. (

People view large images projected on an exterior wall of the Museum of Modern Art (MOMA) 16 January 2007 in New York, as part of the exhibit 'Doug Aitken: sleepwalkers'. The MOMA in collaboration with public art organization Creative Time present the work which is comprised of eight large-scale moving images projected onto the exterior of the building showing the nightly journeys of five New York City residents.

Walkthrough of Doug Aitken's "Migration" installation at 303 Gallery.