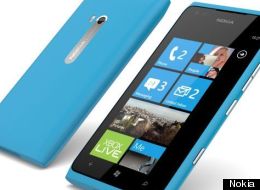 UPDATE: Sources have told the Huffington Post that April 9th is not the date they're hearing for the Lumia 900. No word on the actual date from Nokia, which declined to comment. We still believe that the Lumia 900 will come out some time in April.

-----
In the 19th century, the 49ers rushed for gold; here in the 21st century, the new 4/9ers may be rushing for Nokia smartphones.
Bad jokes aside, Nokia appears to have chosen April 9 (4/9) as the date that it releases the Nokia Lumia 900, according to multiple sources talking to WPCentral. The Lumia 900 is Nokia's new flagship smartphone, with a 4.3-inch display and the Windows Phone operating system; unveiled in January, Nokia has confirmed that it will launch exclusively on AT&T but has not yet provided a solid launch date. Early rumors say that, despite being a flagship phone, the Lumia 900 will cost just $99 on a two-year contract.
(For what it's worth, another website, Boy Genius Report, believes that the launch could be pushed back as far as April 22. (For what it's worth, another website, Boy Genius Report, believes that the launch could be pushed back as far as April 22. However, according to our sources, April 9 seems more likely.)
The Lumia 900 is important to Nokia: It is the smartphone that the Finnish company is (quite literally) banking on to make them relevant again in the United States. After dominating cell phone sales in the U.S. during the early half of the 2000s, Apple's introduction of the iPhone, and Google's subsequent introduction of Android, rendered Nokia a non-player in the American market; Nokia still enjoys robust smartphone sales worldwide -- it remains the largest global manufacturer of smartphones -- though its lead over Samsung has been declining for the last several years.
To combat the rise of Android and the iPhone, Nokia announced a huge new partnership with Microsoft in 2011, in which Nokia would switch over its new handsets from its own Symbian OS to the Windows Phone operating system. That pact has thus far seen the release of several Nokia-Windows Phone smartphones branded with the "Lumia" name, including the budget Lumia 710 on T-Mobile, and the Lumia 800 in Europe; the upcoming Lumia 900 -- essentially a larger version of the 800 -- is considered to be the flagship.
Unveiled at CES in January, the Lumia 900 features a 4.3-inch Clear Black display,an 8-megapixel camera with Carl Zeiss optics, a candybar design with sharp edges and a rounded back, and, of course, Windows Phone 7.5 "Mango." Nokia has promised a multimillion dollar advertising campaign in the United States to promote the Lumia 900, whose success here could be vital to the success of the Nokia's Microsoft gamble (It could also be vital to the success of Microsoft's Windows Phone operating system, which has floundered with the buying public thus far despite solid critical reviews).
You can expect to hear a lot more about the Lumia 900 in the coming weeks and months, in other words, from both Nokia and from the press. To get ready, you can try out a web version of the Windows Phone operating system on your own smartphone here, and check out what's new in Windows Phone Mango below:
Windows Phone Mango: Photos, New Features, Release Date And More(CLONED)
This is the front screen of Mango (colors can be changed, red-haters). Everything you see that isn't solid red is a live tile, meaning the images move around and change.

The second screen on the phone provides an alphabetical list view of apps.

New to Mango (and eventually to Windows 8 "Metro" view) will be app multitasking, which will finally allow the user to switch apps without exiting. (Note: "Metro" is the tablet-optimized version of Window's upcoming desktops OS, which will coexist with the "Classic" Windows user interface on the same device.)

Shows most-used contacts, phone book and "What's New" status updates across social media platforms. All hubs contain several seamless screens that act like a long stretch of wallpaper. When you scroll to the left or to the right, you get to a different one of these screens.

This should look familiar to those of you who followed our Windows 8 coverage; the lock screen is almost identical to that which Windows 8 Metro View will have.

This feature is a holdover from the original Windows Phone 7 software.

Bing Maps contains a new feature in which turn-by-turn directions can be read out to the user.

New to Mango is automatic face detection, which can find faces in photos and autotag them if they are already in your contacts list.

Mango's new music suite has a built-in Pandora-like music identifier that "listens" to a song and provides artist, title, album and, yes, an option to purchase through Zune.

The new Bing Vision can take a picture of a book and then search the words that it reads, taking you to a bookstore to purchase your tome.

Mango adds the much-requested "Conversation" view to its email client to cut down on the clutter of long email chains.

The "Games" Hub in Mango, features Xbox Live integration.

Mango will come with Microsoft's latest, IE9. The browser supports HTML5 but not Flash.

New to Mango, Local Scout searches around you for restaurants/bars, shopping and things to do.

View of Microsoft's app marketplace with all screens visible.

Mango comes with the ability to switch between mediums for messaging.

Concurrent with the release of Mango is the release of a marketplace on the web for Windows Apps. Microsoft joins Android and iOS with web-based app markets.

Mango comes with the Office suite, including access to Powerpoint, Excel, OneNote and Word.

Mango adds the much-requested podcasts to the Zune Marketplace.

Here's IE9's version of browsing with tabs on Mango.

Mango adds another oft-requested feature: visual voicemail.

Microsoft's Mango features a robust voice assistant feature. In the Microsoft TellMe feature (accessed by holding down the Home button), you can make a phone call, dictate a text message, search Bing, launch an app, play music and a few others. According to rumors, a similar feature will appear in Apple's upcoming iOS 5.

Sending a text message to Alan by speaking it into the Microsoft TellMe assistant.

Autocorrect options appear in a horizontal line above the keyboard.

The media marketplace on Mango is powered by Zune.

Screen for incoming call.

The settings screen.